Stephen King's It Back On Track With New Horror Director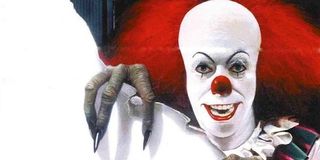 After the success and acclaim of his run on True Detective, many fans were excited to see what Cary Fukunaga could do in adapting Stephen King's classic horror novel It. The pairing was not to be, however, as Fukunaga recently parted ways with New Line, but they've now tapped a new horror-experienced helmer for the job, Mama director Andy Muschietti.
According to The Hollywood Reporter, Muschietti, who both directed and wrote, with his sister Barbara Muschietti, the Jessica Chastain-starring 2013 horror hit Mama, will take the reins on the troubled production of It.
Originally slated to shoot as a two-part film this June, It was moved from Warner Bros. to their more genre-centric offshoot New Line. With that jump came the news that the budget was also going to be significantly slashed. Rather than adjust his idea for the film, which he had been developing with the studio for a number of years, Fukunaga decided to head to other projects, leaving producers Seth Grahame-Smith, David Katzenberg, and Dan Lin to look for a new director. Muschietti is one of the names that was rumored to be in the running a while ago.
Though the schedule is generally up in the air—we don't know when it will shoot now—the two-part structure is, reportedly, still in place. Now that Muschietti is all locked up, the hunt can begin in earnest for a new writer to hammer out a script more in line with his aims. THR also says that Muschietti's sister will likely join as a producer, so it remains to be seen if the two will once again have the chance to collaborate on a script.
Another question mark remains in the form of Will Poulter. The Son of Rambow and The Maze Runner actor was signed on to play the evil presence, who often takes the form of Pennywise the clown and plagues a group of kids in a small Maine town. He is reportedly no longer involved, though the article indicates that, should schedules and other factors all line up, he could very well return to the fold.
[[ br. eras into split to ]]
King's book is kind of a monster in itself, topping 1100 pages, and even splitting into multiple movies, it's going to take some trimming to get to the screen. It filled an entire miniseries back in 1991.
Your Daily Blend of Entertainment News
Thank you for signing up to CinemaBlend. You will receive a verification email shortly.
There was a problem. Please refresh the page and try again.