Sundance Review: John Hawkes And Helen Hunt Dazzle In Festival Hit The Surrogate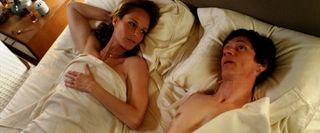 There's endless potential for disaster in stories about handicapped people who overcome the odds and manage to live fulfilling lives. The cliches of the genre, so often exploited in made-for-TV-movies or striving Oscar bait, are only the beginning of the problem; to tell a story about someone less advantaged than the audience is to immediately invoke sympathy, which can nosedive into straight-up maudlin unless something intervenes.
In The Surrogate, what intervenes is John Hawkes, the magnetic character actor known for back-to-back Sundance hits Winter's Bone and Martha Marcy May Marlene and who has once again taken over the festival, though at last with a lead performance. He gives a fiercely committed and physically draining performance as Mark O'Brien, the Berkeley journalist and poet who, after contracting polio at age 6, spent the bulk of his life inside an iron lung, unable to move any part of his body other than his head. At age 38 Mark decided he wanted to have sex, and after consulting his bemused priest (William H. Macy in a solid supporting turn), he discovered the concept of a sex surrogate, a woman who functions like a hands-on sex therapist and helps physically disabled patients learn to have sex.
You'd be forgiven for shrugging when you read that Helen Hunt plays the surrogate, since she hasn't been in anything good, or even interesting, since the last 90s. But Hunt plays the surrogate Cheryl with a frank attitude and a disarming sweetness, speaking to Mark in straightforward therapy terms but also not resisting when a more intimate spark flares between them. Hawkes is obviously doing the most heavy lifting, but The Surrogate really shines thanks to the chemistry between him and Hunt, their therapy sessions as awkward and tender as any virgin's first time, as Cheryl struggles to keep her professional distance and Mark feels the understandable stirrings of what he thinks might be love.
Ben Lewin, who also suffered from polio as a child, directs the film with obvious passion but not much visual style-- Hawkes's performance and voiceover excepts from O'Brien's poems do a lot to help this character express himself, but Lewin's static camera and straightforward staging do nothing to enhance The Surrogate's more subtle storytelling. The movie has been picked up for distribution by Fox Searchlight, and they clearly have a good feeling about the movie's awards chances-- John Hawkes will at least be part of any awards-giving conversation, and Helen Hunt, so many years about what seemed like a fluke Oscar win, deserves attention herself. While The Surrogate isn't as elegantly crafted as it ought to be, its plain surface hides a surprisingly moving and undeniably well-acted film. Prepare to hear much, much more about this one later in the year.
For all of my Sundance coverage, keep checking back to this page. The festival is still running through Sunday, so there's much more to come!
Staff Writer at CinemaBlend
Your Daily Blend of Entertainment News
Thank you for signing up to CinemaBlend. You will receive a verification email shortly.
There was a problem. Please refresh the page and try again.