Sydney White Director Works Again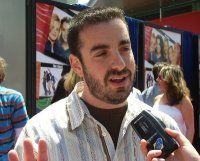 As we noted back in May, a teen comedy script called B.F.F. was sold by Sydney White writer Chad Creasey and his wife Dara Resnik Creasey to Rogue Pictures. At the time, the Creasey's were comparing the boy meets girl in high school story to the John Hughes teen comedies of the 1980's. Now Variety is reporting that Sydney White director Joe Nussbaum has signed on to direct B.F.F. and the project is being compared to Superbad and American Pie.
While the concept of Sydney White sounded good and the cute Amanda Bynes seemed like the perfect person to pull off "Snow White goes to college," the movie has been a critical and commercial bomb. Since the writer and director are going to be the same for B.F.F., it doesn't exactly get us feeling all tingly about the chances for this movie. But the cast is still unknown and it's not like other directors and writers haven't churned out both clunkers and winners at times. Hopefully Nussbaum, who also directed the DVD American Pie: The Naked Mile and Sleepover, both lousy, is only getting better with experience.
The plot for B.F.F. sounds a bit like Four Weddings and a Funeral. Two very different students become best friends and fall in love over the four years of high school. The descriptions specifically mention four proms and one funeral. Sounds a bit derivative, but, let's hope for the best.
Your Daily Blend of Entertainment News
Thank you for signing up to CinemaBlend. You will receive a verification email shortly.
There was a problem. Please refresh the page and try again.