Tarantino Plans For Grindhouse Sequel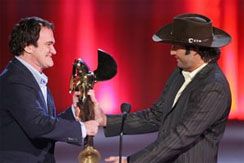 Tarantino and Rodriguez have a lot riding on their Grindhouse movie next weekend. Not just the $53 million budget, but perhaps the future of the whole genre which they're trying to resurrect. If it works, both directors are ready and willing to go on Grindhouse sequels and spinoffs.
A few weeks ago we were the first to break the news here that Rodriguez has more Grindhouse in mind. He's already working on a straight to video spinoff featuring Danny Trejo's machete character and even more Grindhouse movies aren't out of the question for him. Now this morning Variety has broken the news that Tarantino has more Grindhouse on the brain too.
Both Robert and Quentin really want to keep the series going. QT is talking about shooting an old-school Kung Fu movie in Mandarin for his next half of a potential Grindhouse sequel. He'll send it out with subtitles in some countries and a shorter, dubbed cut in others. Presumably, the dubbing would be intentionally horrible. Kung Fu movies don't feel right otherwise.
But it all depends on how many people show up to see Grindhouse next weekend. It's a risk, but it's also an event. It's not every day a double feature roles into theaters. Plan on being there to be a part of it.
Your Daily Blend of Entertainment News
Thank you for signing up to CinemaBlend. You will receive a verification email shortly.
There was a problem. Please refresh the page and try again.