Terminator Genisys' Rating Is Not Going To Make You Happy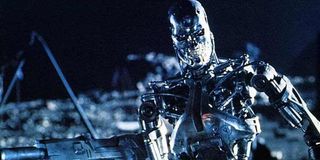 The Terminator franchise used to be a strictly R-rated affair in its earlier days of existence. With the first three entries in the series that made Arnold Schwarzenegger a star, it set a precedent for hard action, extreme violence, and, of course, a fair amount of swearing. That pattern changed when Terminator Salvation decided to follow the new Hollywood regulation that all money making franchises have to be rated a safe PG-13. Gauging the movie going public's reaction to Terminator Salvation, they're probably going to be very upset that this pattern seems to be holding with Terminator Genisys .
The Arnold Fans, a fan site dedicated to Schwarzenegger himself, recently had the opportunity to speak with Jai Courtney, the latest actor to put the role of Kyle Reese on his resume. Amidst all of the stories about mo-cap actors standing in for endoskeletons and whether or not Arnold Schwarzenegger would be back for the two planned sequels it has in store should Terminator: Genisys hit, Courtney had a feeling (expressed in the quote below) that you'll be able to take your kids to see the film when it opens next summer.
While it's too early to determine whether Terminator Genisys will officially be R or PG-13 rated, it's not too early to start estimating the possibilities of either outcome. The film has already wrapped, so barring any massive re-shoots the film sounds like it's already on the track for the more "audience friendly" rating. That doesn't kill the film's chances of being a good old fashioned action romp, because, as Jai Courtney mentioned, a healthy amount of movie violence can be had in a post-Dark Knight PG-13 rated film.
If anything, fans should be more worried about the fact that Terminator Genisys has been considered a "love story" by cast member J.K. Simmons. If anything has the true potential to throw this film off of the rails, it would be an ill-placed romantic subplot. Much like the potential uproar over a PG-13 rating, perhaps it's best to withhold all judgment about the quality of the film until it's actual release.
The future of the Terminator franchise is at stake with Terminator Genisys' theatrical success or failure. With another success story in the books, the two sequels can be put into back-to-back production, and the series can find its second wind. If not, then at least Terminator Salvation won't feel too lonely on your shelf as the least watched Terminator film in your collection.
Terminator Genisys tries to fight its future and make itself known on July 1, 2015.
CinemaBlend's James Bond (expert). Also versed in Large Scale Aggressors, time travel, and Guillermo del Toro. He fights for The User.
Your Daily Blend of Entertainment News
Thank you for signing up to CinemaBlend. You will receive a verification email shortly.
There was a problem. Please refresh the page and try again.