Tired Of Michael Cera? Watch Him Get Punched In The Face A Bunch Of Times!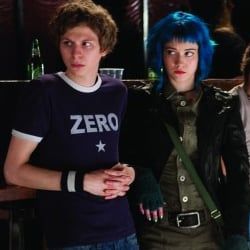 I understand that there are some people out there who are growing tired of Michael Cera playing nerdy guys who can't talk to girls in every movie, even ones where he plays a cave man. His latest, Scott Pilgrim vs. The World, looks amazing and people who've seen it will all tell you that director Edgar Wright knocked it out of the park. Yet, some people are still apprehensive about Cera's performance. And for those of you, maybe this will change your mind.
/Film discovered this quick little gem over at YouTube and it was enough to brighten my day. Basically it's just a collection of shots of Michael Cera getting punched in the face, which is apparently something you're going to see a lot of if you choose this movie over The Expendables this weekend. So check out this video, go see this movie, and marvel in its flashy brilliance.
Your Daily Blend of Entertainment News