Training Day Director Criticizes Spike Lee For Feuding With Quentin Tarantino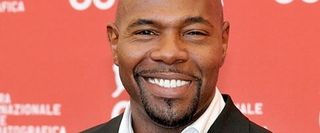 When Spike Lee's not making movies, he's generally stirring the pot. For instance, he might sling insults and accusations at other filmmakers whether or not he's seen their movies. Most recently he criticized Quentin Tarantino's newly released Django Unchained, saying though he hadn't seen the film, he had no plans to because, "American Slavery Was Not A Sergio Leone Spaghetti Western."
Considering Lee took issue with the repeated use of "the n-word" in Jackie Brown, declaring this meant "there is something wrong with" Tarantino, it's safe to assume he'd be even more outraged if he actually saw Django Unchained, which has several white characters aggressively slinging the slur in the pre-Civil War South. Already Lee has assumed the movie is "disrespectful" to his ancestors, but director Antoine Fuqua, suggests it is Lee who is being disrespectful here.
While at Capri's Hollywood Film Festival, the helmer best known for the Oscar-winning Denzel Washington vehicle Training Day spoke with THR, criticizing Lee's public boycott and Twitter rant, saying:
Of course, talking publically is just how Fuqua is responding, but nonetheless he went on to defend Tarantino, saying, "I don't think Quentin Tarantino has a racist bone in his body." He then insisted that his friend Jamie Foxx would not star in a movie that promoted racism. And though he hasn't seen the film yet, he's pre-emptively defending its frequent use of the controversial six-letter word:
We'll hear more from Fuqua on his own works as the spring release of his action thriller Olympus Has Fallen draws near. The movie, which centers on a Secret Service agent protecting the president from a terrorist attack on the White House opens March 22nd, 2013.
Staff writer at CinemaBlend.
Your Daily Blend of Entertainment News
Thank you for signing up to CinemaBlend. You will receive a verification email shortly.
There was a problem. Please refresh the page and try again.