Universal May Be Picking Up Barbra Streisand's Gypsy Remake After All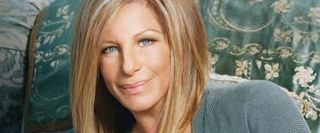 When the news hit last week that Barbra Streisand's planned remake of Gypsy had fallen apart, it came from about as reliable a source as you can imagine. The musical's original writer Arthur Laurents said, on the record, that he and composer Stephen Sondheim had agreed they wouldn't give their permission for another movie, and without the two of them the project couldn't go forward. Solid information, no?
Whether Laurents and Sondheim changed their mind or Laurents was just misdirecting us, it seems the case isn't closed at all. Deadline is reporting that the two are bargaining now with Universal Pictures and producer Joel SIlver, with Streisand still set to play the ultimate stage mother (and the role most coveted by Broadway divas) Mama Rose. Tom Hooper, who Laurents had mentioned being interested in the previous interview, reportedly won't be involved, and Streisand also won't be directing.
I'm happy to see that the project may still have life in it, both as a fan of the movie musical in general and of the heartbreaking, lovely play Gypsy. On an inside baseball note, though, I'm annoyed to see Deadline writer Mike Fleming use his scoop as a chance to chastise other bloggers who "accept[ed] any and every piece of reportage as fact without taking the time to verify." The story about Gypsy being dead hadn't come from some unsubstantiated rumor, but from on-the-record information from someone deeply involved in the process. Good on Fleming for digging up newer, better information, but taking the opportunity to slam everyone reporting on actual facts is totally low. OK, inside baseball rant over. Speculate on who you want to play Louise and Herbie in the comments-- if you think Anne Hathaway is going to be angling hard for that role, I'm right there with you.
Staff Writer at CinemaBlend
Your Daily Blend of Entertainment News
Thank you for signing up to CinemaBlend. You will receive a verification email shortly.
There was a problem. Please refresh the page and try again.