Warner Bros. Only Wants Angelina Jolie For Gravity, And She Won't Bite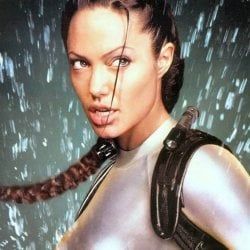 A few weeks ago we were trumping up the "battle of the blondes" between Blake Lively and Scarlett Johansson as they both vied for the lead female role in Gravity, the outer-space thriller from director Alfonso Cuaron that's already set to star Robert Downey Jr. Angelina Jolie had originally been on board for the film but bailed several months ago, and even with Downey Jr. on board the producers were apparently struggling to come up with someone to replace Jolie.
We all knew Angelina Jolie was one of a kind, but apparently she's so unique that Warner Bros. searched through all of Hollywood's starlets only to try and get Jolie back again. Deadline reports that after testing the likes of Lively, Johansson, Sandra Bullock, Marion Cotillard, Carey Mulligan, Olivia Wilde and nearly every other hot young actress you can name, the studio went back to Jolie with a better offer, and she still passed. Apparently Downey Jr.'s role is small compared to the female lead, and they need a gigantic female star to carry the film-- and there's no bigger star right now, once again, than Jolie.
Running down the list of all the other projects Jolie has in mind, from the Bosnian war love story she plans to direct to Salt 2, Deadline speculates she won't come back to Gravity no matter what, and I have to agree. Now it's just going to take one of those actresses to have the chutzpah to say not only can she act like Jolie, but she can open a movie all by herself like Jolie-- when, of course, no other female star has that power, especially for action movies. Maybe by passing Jolie is trying to help breed a new female action hero to follow her lead. It's too bad Warner Bros. didn't trust themselves or their property enough to actually give it a shot, though now they'll have to. I hope Naomi Watts or Abbie Cornish or whoever they cast-- I'm rooting hardest for Cotillard--gives 'em hell and proves Jolie right.
Staff Writer at CinemaBlend
Your Daily Blend of Entertainment News
Thank you for signing up to CinemaBlend. You will receive a verification email shortly.
There was a problem. Please refresh the page and try again.