Weekend Box Office: The Perfect Guy Lands Less Than Perfect Number One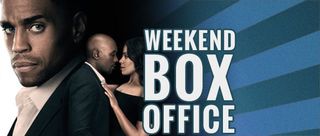 Summer is officially over and although most of the end-of-summer crap has been dumped over the last few weekends the box office continues showing the usual slow down as the doldrums between summer and the Thanksgiving roll through.
Number one went to lazy thriller The Perfect Guy which banked a surprisingly high $26 million. That was just enough to edge out M. Night Shyalaman's latest offering, The Visit, which took a close second with $25 million. The Visit marks his second lowest opening ever and something of a surprise that audiences are still willing to give him another chance after a depressingly long chain of disappointments.
Writer/director Michael Polish's newest movie 90 Minutes in Heaven bowed in at ninth place with a miniscule $2.1 million. That was enough to edge out Spanish language animated flick Un Gallo con Muchos Huevos which expanded to over 600 screens to bank $1.9 million and a tenth place expansion.
For the full weekend top ten, check out the chart below:
1.

The Perfect Guy
$26,700,000
Total: $26,700,000
LW: N
THTRS: 2,221
2.
The Visit

$25,690,000Total: $25,690,000LW: N
THTRS: 3,069
3.
War Room

$7,400,000Total: $39,188,327LW: 1
THTRS: 1,647
4.
A Walk in the Woods

$4,620,099Total: $19,877,024LW: 3
THTRS: 2,139
5.
Mission: Impossible - Rogue Nation

$4,150,000Total: $188,172,518LW: 5
THTRS: 2,649
6.
Straight Outta Compton

$4,090,000Total: $155,712,600LW: 2
THTRS: 2,812
7.
No Escape

$2,879,000Total: $24,155,935LW: 6
THTRS: 3,022
8.
The Transporter Refueled

$2,700,000Total: $13,343,496LW: 4
THTRS: 3,434
9.

90 Minutes in Heaven
$2,160,911
Total: $2,160,911
LW: N
THTRS: 878
10.

Un Gallo con Muchos Huevos
$1,900,000
Total: $6,667,352
LW: 9
THTRS: 616
Your Daily Blend of Entertainment News
Thank you for signing up to CinemaBlend. You will receive a verification email shortly.
There was a problem. Please refresh the page and try again.