Weekend Box Office: Straight Outta Compton Repeats At Number One While American Ultra Implodes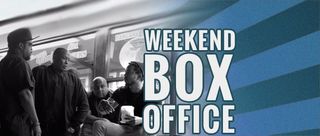 Three new movies rolled out this weekend but none were big enough to upset last weekend's top two movies.
Horror sequel Sinister 2 fared the best of the newcomers, banking just $10 million, well short of the $18 million debut of its 2012 predecessor. It earned enough for a distant third place behind repeat top earner Straight Outta Compton which added $26 million to its now $111 million domestic total, and second place Mission: Impossible - Rogue Nation with its $11 million take.
Hitman: Agent 47 fared worse, earning a paltry $8 million for a weak fourth place. The second attempt to bring the Hitman video game franchise was also a disappointment compared to the previous entry. Hitman opened with $13 million back in 2007.
But the biggest disappointment this weekend was American Ultra. The attempted action comedy had more than a few recognizable names attached, but critical panning and minimal marketing kept audiences away. It bowed in with just $5 million at sixth place and is set to disappear from the top ten quickly and quietly.
For the full weekend top ten, check out the chart below:
1.
Straight Outta Compton

$26,760,000Total: $111,483,000LW: 1
THTRS: 3,025
2.
Mission: Impossible - Rogue Nation

$11,700,000Total: $157,763,000LW: 2
THTRS: 3,442
3.

Sinister 2 *
$10,633,000
Total: $10,633,000
LW: N
THTRS: 2,766
4.
Hitman: Agent 47 *

$8,200,000Total: $8,200,000LW: N
THTRS: 3,261
5.
The Man From U.N.C.L.E.

$7,420,000Total: $26,637,000LW: 3
THTRS: 3,673
6.
American Ultra *

$5,500,000Total: $5,500,000LW: N
THTRS: 2,778
7.
The Gift (2015)

$4,300,000Total: $31,053,000LW: 5
THTRS: 2,303
8.
Ant-Man

$4,088,000Total: $164,524,000LW: 6
THTRS: 2,016
9.
Minions

$3,710,000Total: $319,965,000LW: 8
THTRS: 2,226
10.
Fantastic Four

$3,650,000Total: $49,625,000LW: 4
THTRS: 2,581
Your Daily Blend of Entertainment News
Thank you for signing up to CinemaBlend. You will receive a verification email shortly.
There was a problem. Please refresh the page and try again.