Why Star Trek Into Darkness And Iron Man 3 Opened Overseas First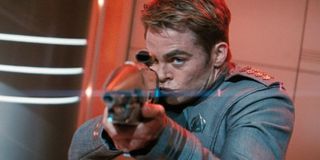 American audiences awaiting this summer's crop of super-powered blockbusters might have noticed a disturbing trend: International audiences are seeing select films sooner than we are.
Marvel and Disney's Iron Man 3, which officially launched the 2013 summer blockbuster season, had earned more than $300 million in ticket sales before even opening in a single U.S. theater. How? An early release strategy had the coveted sequel conquering Australia, France, Italy, Taiwan, Hong Kong, the UK, Japan, China, Germany and several other nations at least a week ahead of the United States.
A similar situation occurs this week with Paramount's Star Trek Into Darkness. The Star Trek franchise, by all accounts, is an American-bred product, conceived by Texas native Gene Roddenberry for U.S. television. It's about as American as sci-fi can get. And yet, it held its world premiere in London, and opened in multiple foreign territories long before it screened for U.S. audiences. That was significant because Abrams – as you know – went to great lengths to protect a valuable secret regarding the identity of the film's villain. But how do you keep lid on THAT particular can of worms when assorted European and Asian markets have seen the film and are primed to spoil the Into Darkness secrets on the global Internet?
Short answer: You don't. And so American audiences, in the cases of Iron Man 3 and Star Trek, have had to suffer.
But why? The studios claim there is no deliberate strategy in place, with Paramount reps explaining that Trek opened early overseas because they spotted a window of opportunity with Warner Bros.' own The Great Gatsby moved around the release-date calendar, creating a convenient hole. (Disney, for the record, declined the opportunity to comment on Iron Man 3.)
But there has to be more of an explanation than that, and we came up with a few theories after a little digging around about the benefits (and hindrances) of opening a tentpole overseas before launching it in the States.
The word we hear over and over when researching this topic is piracy. It long has been a problem for the studios – in the U.S. and abroad – that movies are showing up on illegal piracy sites days or weeks before they are due to land in theaters. Sometimes, as was the case with Fox's X-Men Origins: Wolverine, the source of the leak comes from within. Other times, its camcorder copies of already opened films that flood international markets. Since studios gross large percentages of their overall take in international markets, it is believed that more studios are trying to open blockbusters in places like China and Japan to extinguish the need to pirated copies.
Another key word that pops up while digging is "availability," as in the availability of the talent needed to promote these films, and the availability of the press needed to cover just such an event. At a London-based press event for a Chronicles of Narnia sequel, I was told by a studio rep that UK premieres allow studios to access so many journalists from so many different regions. London has become a very central location for world premieres and subsequent press events.
"Worldwide release dates often come down to timing issues," Exhibitor Relations Co. Senior Box Office Analyst Jeff Bock told Moviefone in an interview. "When can Robert Downey Jr. trot around the globe? When are the other studios releasing their films overseas, and how can our release maximize profits?"
Ah yes, profits. Keep digging, and the final word that surfaces with regard to this story, obviously, is money.
"More than anything else, the shift reflects how the international market, once just gravy for Hollywood, has eclipsed the domestic market as the main source of revenue for mainstream theatrical releases," Susman wrote in the same Moviefone piece. He makes a good point. Star Trek Into Darkness, for example, has earned $31 million internationally in its first two weeks of release ... putting it well ahead of the pace of Abrams' 2009 franchise reboot. Last year's The Avengers is a prime example; it earned $623.4 million in the U.S., but an impressive $888.4 million in overseas territories. And $185.1 million of that international gross was earned in the movie's opening weekend … before it reached the States.
As we pointed out, Marvel worked a similar strategy this summer. By opening overseas first, Iron Man 3 already had roughly $300M in the bank before reaching the U.S. – where it was guaranteed to succeed.
That "guarantee" of success is another reason why, as films continue to play to a global audience, American crowds (and the money that they bring to the box office) just aren't as special or unique as they once were thought to be. Bock tells Moviefone, "The truth is, with the emergence of Russia and China and other foreign territories as premium box office markets, the United States is starting to become just another territory on the studios' release schedule. This global strategy is becoming a more common occurrence each year as blockbusters are adapting to a worldwide release pattern instead of one that is U.S.-centric."
In other words, we should probably get used to the fact that superheroes and sci-fi characters we once thought of as exclusively ours now belong to everyone. And when it comes time for major studios to market and distribute these movies to a global marketplace, we're going to see the films … eventually. But it's likely going to be after everybody else. As movies like Iron Man 3 and Oblivion proved, we'll show up when the studio finally opens the movie here. Shane Black's sequel has banked $298M domestically to date, but a whopping $685M overseas. We just aren't the powerful movie launch pad we once were.
This poll is no longer available.
Movie junkie. Infatuated with comic-book films. ReelBlend cohost. Resident dad. Extroverted introvert. Wants to see the Snyder Cut. Managing Director at CinemaBlend.
Your Daily Blend of Entertainment News
Thank you for signing up to CinemaBlend. You will receive a verification email shortly.
There was a problem. Please refresh the page and try again.