The Rock Is Definitely Playing One Of The Weirdest Superheroes Ever Created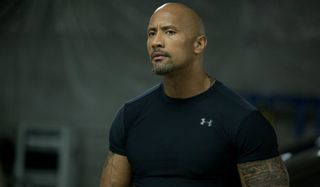 Dwayne Johnson is in every single modern Hollywood movie. Okay, that's perhaps a bit of an overstatement, but the fact remains that the man has become one of the hardest working action stars in the industry. The Rock has had a hand in some of the largest contemporary blockbuster franchises imaginable, and he's far from done picking up up new projects for himself. We've just learned that he has signed on to play a new superhero – and in his own words, it's one of his weirdest projects to date.
Dwayne Johnson has just taken to his personal Facebook account to announce that he has teamed up with writer/director Shane Black for an upcoming Doc Savage movie. Despite Johnson's insanely crowded slate of upcoming films, it seems that he has endeavored to find room in his busy schedule to bring the world's first superhero to the silver screen.
The character of Clark "Doc" Savage is a famous American pulp hero from the 1930s and 1940s. Trained and enhanced by his scientist father from birth, Doc Savage has near superhuman physical and mental abilities, including, but not limited to: enhanced strength, stamina, a photographic memory, martial arts, and an amazing scientific mind. Basically he's the Übermensch personified. The character even served as an initial inspiration for Clark Kent a.k.a Superman, as many of the traits from Doc Savage can be clearly seen in the Kryptonian character.
However, there's another reason why the upcoming Doc Savage movie has us so excited: he's totally and completely weird. In his Facebook post, The Rock goes on to admit that one of the most interesting things about the upcoming Doc Savage movie is the fact that, while the character is a physical and mental specimen, he isn't the most well-socialized of heroes. This seems to indicate that Dwayne Johnson and Shane Black's mutual knack for comedy will come into play during this coming adventure to show how this character doesn't fully understand certain normal social interactions.
Bringing Doc Savage to the silver screen could be exactly what the superhero genre needs right now. He's a character with an immense publication history and an enormous influence over the genre as a whole, but he sets himself apart by eschewing the traditional capes and chest logos style that has become the norm for most cinematic superheroes. With Dwayne Johnson's combination of physicality and charm, we have a distinct feeling that the Doc Savage movie could represent a watershed moment for superhero movies on par with the original Spider-Man, or 2008's Iron Man.
Here's Rock's Facebook message, which is worth the read:
We will keep you posted with any and all updates related to the upcoming Doc Savage movie as they become available to us.
Originally from Connecticut, Conner grew up in San Diego and graduated from Chapman University in 2014. He now lives in Los Angeles working in and around the entertainment industry and can mostly be found binging horror movies and chugging coffee.
Your Daily Blend of Entertainment News
Thank you for signing up to CinemaBlend. You will receive a verification email shortly.
There was a problem. Please refresh the page and try again.