Rob Lowe Shares Feelings After Monday Night's 911: Lone Star Episode Was A Total Family Affair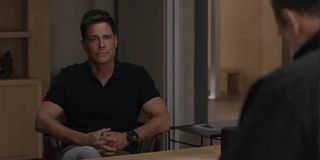 Spoilers ahead for Monday night's 9-1-1: Lone Star Season 2, Episode 11 "Slow Burn."
Monday night's episode of Fox's 9-1-1: Lone Star was a total family affair for one of the stars. While star Rob Lowe was busy in front of the camera trying to catch a serial arsonist as the always dependable Owen Strand, his brother was making magic happen from behind the camera, while his son was the writer who put the story to the page.
For those who may have missed the memo, star Rob Lowe and the episode's director Chad Lowe are indeed brothers, with the latter having made his name as an actor for years before partially shifting to directorial work on a variety of TV projects over the past 21 years. Meanwhile, the Lone Star lead also works with his son John Owen Lowe quite often, as he's on the writing staff for the first responder sequel series. After all three Lowes came together for the latest episode of 9-1-1: Lone Star, titled "Slow Burn," and the show's star talked to Entertainment Weekly about experience with some disbelief intact.
Working with his son is something that Rob Lowe will presumably always hold close to his heart. As a parent, you only want what's best for your child and for them to be successful in life, so for Lowe's son writing on the same major network series that Lowe stars in is something he could only dream about. Plus, he probably doesn't have to worry about either his brother or his son calling him to bum money.
Even beyond that, Rob Lowe is pumped that both John Owen and Chad Lowe have shared in the experience of working with the all-star cast and crew that bring 9-1-1: Lone Star to life, as well as learning from all the talented people, from Ryan Murphy to Gina Torres. Lowe seems to be overwhelmed with gratitude, saying:
Monday's episode of 9-1-1: Lone Star definitely wasn't a dull installment for all three Lowe family members to team up on. "Slow Burn" involved Owen tying to track down a serial arsonist, even though he was the only one who suspected a recent fire was started purposefully. At the end of the episode, Owen returned to the scene of the presumed crime to find proof, but he was hit on the head and went unconscious. Upon waking up, he found himself on the ground and surrounded by fire.
Next week's episode will turn up the heat even more as Owen himself is suspected of being the arsonist, and some within the the 126 team will find themselves in other fiery situations. Find out what'll happen next when 9-1-1: Lone Star airs Mondays at 9 p.m. EST on Fox.
Your Daily Blend of Entertainment News
Passionate writer. Obsessed with anything and everything entertainment, specifically movies and television. Can get easily attached to fictional characters.