Winona Ryder Would Totally Cheat On Kevin James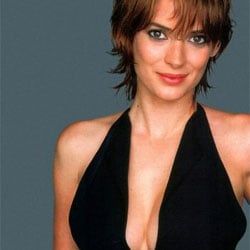 After directing horrible, money-grab, Da Vinci Code movies, you'd think Ron Howard would be ready to do something good. In 2008 his need not to suck resulted in the excellent Frost/Nixon which he squeezed in between Da Vinci and Angels & Demons. So I'm willing to bet that whatever he does between Angels and Da Vinci Code 3 will be just as good. His tweener movie this time is something called Your Cheating Heart.
As the title suggests, it's an infidelity comedy. Vince Vaughn and Kevin James are already on board to play the leads in the movie. And now Winona Ryder has been added to the cast… probably. I say probably because the story comes from an extremely strange post from Deadline where, let's face it, all their posts generally fall into two distinct categories: strange or gloating. This one's strange, but to their credit they aren't usually wrong. What's particularly odd here is that they don't seem to know what the movie's called. The site's editor in chief calls it Cheaters when last we heard it was called Your Cheating Heart. Name change? Typo? It's one of those.
So it's likely safe to assume that Winona Ryder is in the film. She's been cast to play Kevin James' wife, which as Deadline points out, is totally believable. Actually, it's totally believable that she'd cheat on him. Perfect casting for an infidelity comedy.
Your Daily Blend of Entertainment News