X-Men: Apocalypse Shares A Powerful Image Ahead Of The Trailer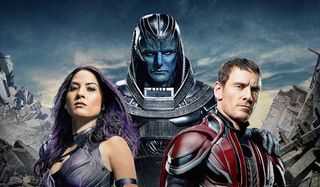 It's almost six months until X-Men: Apocalypse hits theaters, which means we're not far off from getting the first preview. It's been confirmed that the teaser trailer for the 2016 blockbuster will screen with Star Wars: The Force Awakens, but since that's still several weeks away, director Bryan Singer has provided this powerful image of James McAvoy's Charles Xavier from the upcoming trailer.
Singer snapped this photo of the X-Men: Apocalypse teaser being screened in a cool-looking home theater. By itself, it's obvious what's happening in this Instagram shot: Xavier is using Cerebro, the machine that boosts his telepathy and allows him to find mutants across the globe. However, there's more going on in this shot than meets the eye. This past summer at San Diego Comic-Con, X-Men: Apocalypse footage was screened at the Fox panel, and one of the scenes was Xavier being overwhelmed by Apocalypse's power while tracking him with Cerebro, which explains his pained expression. It's unclear where this particular shot will fall in the teaser, though because it was the last shot in the Comic-Con footage, perhaps it will be put at the end in this case as well to emphasize emotion.
Xavier has come a long way since the "First Class" trilogy of X-Men movies kicked off in 2011. He started out in X-Men: First Class as an idealistic young man eager to help mutant kind in X-Men: First Class, while X-Men: Days of Future Past saw him having abandoned that noble goal but getting back on track in the end. The end of the trilogy, X-Men: Apocalypse, will be the closest he has ever come to the Patrick Stewart iteration of the character from the original films, despite the fact that we still don't know if he'll have adopted the look of his predecessor. While it's hard to tell whether Xavier is bald or still has his hair in the above shot, a previously released still showed him in the Cerebro chamber with Mystique, Beast, Havok and Moira MacTaggert, so he won't have lost his hair yet. Don't worry though, we'll see Xavier rocking the chrome dome in no time.
Taking place 10 years after X-Men: Days of Future Past, X-Men: Apocalypse will see the eponymous antagonist waking after thousands of years and being unimpressed with early 1980s Earth. Recruiting Magneto, Storm, Angel and Psylocke as his Four Horsemen, they'll set out to create a new world order where he'll reign supreme. In order to combat their greatest threat yet, Xavier will need to form a new team of X-Men, which will include most of the "First Class" protagonists and maybe even his young students, like Cyclops and Jean Grey.
X-Men: Apocalypse will be released on May 27, 2016.
Connoisseur of Marvel, DC, Star Wars, John Wick, MonsterVerse and Doctor Who lore. He's aware he looks like Harry Potter and Clark Kent.