X-Men: First Class Sequel Sets Summer 2014 Release Date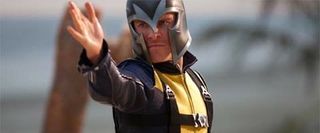 X-Men: First Class was one of the more rushed blockbuster productions in recent memory, with Matthew Vaughn signing on as director in May of 2010, just 13 months before the June 2011 release. Miraculously, it actually turned out pretty well, earning strong reviews, a whole lot of money, and of course, the inevitable plans for a sequel.
As rushed as they were to make the first one, though, 20th Century Fox has been taking their time putting together the First Class sequel, and in early April they announced they'd wait even longer, starting production in January of next year to accommodate the schedule of star Jennifer Lawrence, who will be shooting the Hunger Games sequel Catching Fire this fall. Now, as you might guess, Fox has finally set a release date for the still-untitled film, but it's giving them a little more time to finish it this time around. The update at Box Office Mojo says the First Class sequel will come to theaters July 18, 2014, giving returning director Vaughn a much more reasonable 18 months from the start of production to release.
We don't know a whole lot else about the film, except that it will focus even further on the development of Magneto (Michael Fassbender) as the villain, and that other stars like James McAvoy, Zoe Kravitz, Rose Byrne and Nicholas Hoult are all likely to reprise their roles. With production not starting until next year it will probably be a while before we hear more casting information or any more plot details, but now at least we can know it'll be 2014 before we should start looking forward to actually seeing it.
Staff Writer at CinemaBlend
Your Daily Blend of Entertainment News
Thank you for signing up to CinemaBlend. You will receive a verification email shortly.
There was a problem. Please refresh the page and try again.