New Independence Day: Resurgence TV Spot Reveals The Biggest Alien Yet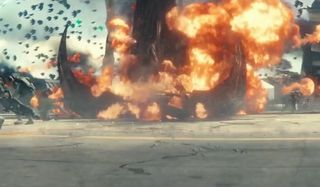 It's been 20 years since aliens attacked in Independence Day, and back then, it took everything humanity had to prevent them from destroying Earth. Now the savage extraterrestrials are back, and while our technology is better equipped to combat them this time around, the new invasion force is even bigger than before. As if that wasn't bad enough, the latest Independence Day: Resurgence preview shows that not all of the aliens are human-sized. At least one comes in an even bigger package.
In the new Independence Day: Resurgence TV spot, our first glimpse at one of the huge aliens is when a massive foot crushes one of Earth Space Defense's vehicles, and no matter how many lasers the soldiers shoot at that thing, it isn't going down. Seconds later, we see this monstrosity in all its glory. Like its smaller brethren, it has the tentacles and ugly visage, but because of its size and durability, it's able to take on the planes trying blast it to hell. Whether it was born that way or scientifically augmented to be a giant, it doesn't matter to the humans dealing with it, including pilot Dylan Dubrow-Hiller, the stepson of Steven Hiller. They just want to take it out before it kills more people. If all goes well, that thing will be dead soon, but who will deliver the killing shot?
Here's a screenshot in case you want to look at the alien without the pandemonium from the sequel's TV spot.
While there isn't much context regarding how this particular alien gets thrown into the mix, we can presume that the aliens send it to attack one of Earth's military bases in the desert, which, as expected, leads to havoc. This is just one of the many ways that the new invaders will reap mass destruction across Earth in Independence Day: Resurgence. Just like in the first Independence Day movie, they have the ships and firepower to kill thousands and destroy all our precious landmarks. Thanks to Jeff Goldblum's David Levinson and the rest of Earth Space Defense, humanity was able to use the leftover alien technology from the first invasion to improve the planet's weaponry in case the aliens ever came back, but not everything can be planned for ahead of time. Surely they didn't account for a giant sweeping its tentacles at their state of the art jets, right?
Independence Day: Resurgence invades theaters on June 24.
Your Daily Blend of Entertainment News
Connoisseur of Marvel, DC, Star Wars, John Wick, MonsterVerse and Doctor Who lore. He's aware he looks like Harry Potter and Clark Kent.