Suicide Squad Director Confirms Grisly Fan Theory About Joker And Harley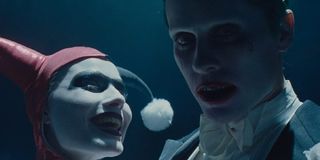 The theatrical cut of David Ayer's Suicide Squad had a mixed bag of silly, light-hearted humor and dark, creepy scenes with Harley Quinn and The Joker. But, director David Ayer recently confirmed a fan theory that would have made the relationship between Joker and Harley more grisly than what we got in the movie.
In one cut of Suicide Squad, when Joker, played by Jared Leto, is sitting in the middle of a circle of knives, there's a girl in red lying in a chair. Later, that girl is edited out. So the fan theory goes like this: Since Harley Quinn is imprisoned, Joker hires girls to pretend to be Harley for him. However, they never live up to the real Harley Quinn, so he has them killed. David Ayer addressed this theory on Twitter recently. Here's what he said:
Yikes, that's some dark stuff. Still, it's not entirely surprising. Earlier this year, David Ayer said that another Joker scene was cut out because it was "too dark." So it's plausible that the backstory of Joker hiring girls to play Harley and then killing them would be considered too dark as well.
With the success of the campaign for The Snyder Cut and getting Zack Snyder's Justice League onto HBO Max, DC fans have turned their attention to The Ayer Cut of Suicide Squad. That kind of attention has opened the door for plenty of revelations about David Ayer's intentions for the superhero movie revolving around a team of DC's worst criminals forced to fight against a much darker force. Supposedly reshoots may have derailed David Ayer's initial vision.
One of the biggest revelations to come out of all of it is that Jared Leto's Joker got the brunt of the editor's axe, pushing him to the further corners of the story. Over time, David Ayer has released photos and information about what his version of the Joker would have been like, and his Joker seems terrifying.
According to David Ayer, his heart breaks for Jared Leto because the actor did magnificent work that no one has been able to see. Most of that seems to point to many of the darker scenes involving The Joker. In another long, dark scene that was cut, the Joker convinced Monster T (Common) to kill himself.
We've also got a fairly bleak portrait of the relationship between Joker and Harley Quinn. A rumor this year suggested that in one scene, Joker originally pushed Harley Quinn out of the helicopter that came to rescue her. David Ayer clarified that the character did do that, but it wasn't to kill Harley. Overall, though, it sounds like David Ayer envisioned a twisted and demented tale with Harley Quinn and Joker. For more movie news, be sure to stay tuned to CinemaBlend.
Your Daily Blend of Entertainment News
Your Daily Blend of Entertainment News
Thank you for signing up to CinemaBlend. You will receive a verification email shortly.
There was a problem. Please refresh the page and try again.