Why Jamie Foxx Gave His Project Power Co-Star $100 After Her Audition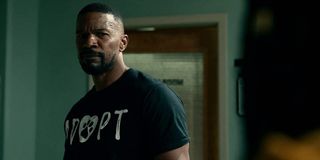 Auditioning for a film can be difficult but, when it comes to a major production like Project Power (which stars a big name like Jamie Foxx), there can be all kinds of pressure. Dominque Fishback wasn't feeling all that great when she auditioned for her role, but her would-be co-star, Foxx, made her audition a memorable one by giving her $100. But why did the star gift her with the cash?
Before her audition, Dominque Fishback, who also appeared in The Hate U Give, lost her wallet at the airport on her way to her Project Power audition. She didn't have credit cards or cash and, as you can imagine, that put her in a tough spot. But as it turns out, when Jamie Foxx heard about her not having money, he was happy to help her out. Here's what Dominque Fishback said to THR about his generosity:
This is pretty amazing and a fantastic gesture to extend to someone who's down on their luck. Of course, that wasn't the last good thing to happen to Dominque Fishback. On top of getting $150, she also landed the supporting role of Robin, a teenage drug dealer that aids Jamie Foxx's character in Project Power.
For those who aren't familiar with it, Netflix's Project Power just landed this weekend. The story revolves around a new pill that gives a person a superpower for five minutes. So what's the catch? Well, the pill could also kill you. Jamie Foxx plays a cop that teams up with an ex-solider (played by Joseph Gordon Levitt) and a drug dealer to take down those responsible for creating the drug.
Overall, Project Power has received solid reviews from critics, though many say it doesn't go far enough on its themes and concepts. CinemaBlend's own Sean O'Connell, who was positive in his review, also added that the film "doesn't fully explore its coolest idea." Still, based on the trailer, Project Power looks like a fun ride with an original concept. You can check it out for yourself down below:
But have you seen Project Power? If so, what did you think of it? Let us know in the comments below!
Your Daily Blend of Entertainment News
Thank you for signing up to CinemaBlend. You will receive a verification email shortly.
There was a problem. Please refresh the page and try again.