Why Adele May Stop Touring Completely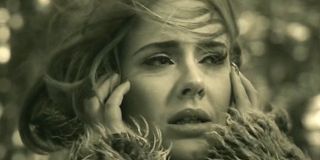 After months upon months of nonstop touring, Grammy Award-winner Adele reached the end of the Adele Tour 2017 at Wembley Stadium in London. Adele left the audience people stunned when she once again indicated that she might decide to give up touring forever. In a statement, the 29-year-old singer explained why she might be at the end of the road in terms of tours.
Adele put the statement in handwriting and added some words of gratitude for her fans. Then, the "Send My Love to Your New Lover" singer included copies of the note in programs for the 98,000 concertgoers. In the message, Adele reminded the audience that she had performed 119 shows up to that point, and the final four shows in London brought her tally up to 123 in total. The star revealed that she wanted to end in London because the city is her home. She wanted to be in the comfort of her "Hometown Glory" because she was uncertain whether she will tour again.
Of course, fans around the world were shocked when concertgoers took to social media to post pictures of the letter. However, it was not the first time Adele worried fans who love seeing her in concert. Earlier this year, Adele broached the topic of touring when she was giving the final performance of her tour's stop in Australia and New Zealand. At that time, Adele talked about how she feels touring is not her strong suit. She also said that having people applaud for her makes her feel vulnerable. Live Nation Chairman Michael Coppel, a local promoter for that leg of the tour, underscored the notion by reiterating that Adele had been heard saying she planned to stop touring.
Also, in an interview from late last year, Adele opened up about the possibility of leaving her touring days in the past. She confessed she would quit a tour for her four-year-old son, Angelo Konecki, or her husband, Simon Konecki. Furthermore, Adele said she would feel content if never receiving applause again. She explained that touring was not about the accolades or the money but the joy she saw in her fans.
Even before that time, not long after Adele released 25 in 2015, there were rumors she might take a five-year hiatus from music to concentrate on her family and spend time with her husband, son, and stepdaughter.
Only time will tell if Adele quits touring for good. Now that she is home in London, she hopefully can get some rest and, after a well-earned break, decide where she will go from here.