Chris Cornell Covers I Will Always Love You At Obama Fundraiser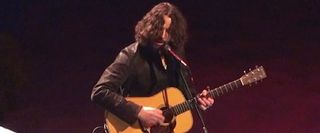 Since Whitney Houston's tragic death a week ago, we've seen more than one strong cover of the music icon's take on Dolly Parton's "I Will Always Love You." Jennifer Hudson delivered a stellar performance of the song as tribute to Houston at the Grammys, and Amber Riley certainly held her own when she took on the ballad during Tuesday's episode of Glee. (The song was already set to be featured in the episode).
It takes a strong voice to successfully tackle a song like "I Will Always Love You" without completely butchering it. Houston set the bar high when she covered the ballad for the Bodyguard soundtrack. Fortunately, rocker Chris Cornell has a strong voice, and it's served him well in his solo career, as well as his days of fronting Audioslave and Soundgarden.
Via the Hollywood Reporter, the video below shows Cornell performing an acoustic version of "I Will Always Love You" for the audience at a fundraiser for President Obama last week.
As he mentions at the start, he just learned the song, and it seems there are a few pauses when he might be checking the lyrics, but vocally, he sounds great.
As the Reporter notes, Cornell is known for covering Michael Jackson's "Billie Jean." The strength and control of his voice certainly allows him the flexibility to reach out beyond his grunge roots and offer an alternative take on hits like that one and Houston's version of "I Will Always Love You."
I know I liked it, but what did you think? Did you find it moving?