Disney World Visitor Jokes About Meth, Gets Banned From Parks For Life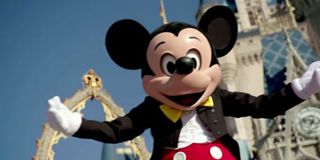 There are few instances when Disney World just isn't the Happiest Place on Earth. And I'm not even talking about the long lines and screaming children. I'm talking about the few instances so bad that you get kicked out of the park. Well that recently went down for a Florida man who never even saw it coming. David Swindler and family were visiting Disney World over Labor Day weekend, when an attempt at an extended stay, including a joke about a meth lab, got Mr. Swindler booted for life.
Tampa Bay's local news channel WLTV reported the incident of the unfortunate joke taken a bit too literally. Apparently, according to First Coast News Swindler had decided to extend his family's stay at Disney World, but when Swindler grew impatient with one of the resort's cast members, he joked that he could build a meth lab in his room by the time he actually got some service. Swindler's joke didn't go over well, and it initiated an entire raid at the Disney Resort in the middle of the night. The family was kicked out of the hotel, and Mr. Swindler received a ban for life from the park.
We can't be sure whether Swindler's joke seemed like a joke at the time, or if his frustration in the situation made the employee react differently. Either way, Swindler's hope is to take the story to social media at an attempt to rebuild his relationship with Disney, because the Swindler family are HUGE Disney fans. Swindler's wife goes by Tinkerbell, and she calls her husband Grumpy. He even went so far to exclaim Disney as one of his top 3 most important things in life, telling First Coast News:
Swindler said that he accepts responsibility for his claims, but really just didn't think anyone would take him seriously. Even after the authorities found nothing, the Swindler family was quickly evicted from the resort. Swindler wishes he could take it back, and the trespass warning is for all Disney properties, and indefinitely. While the Floridian is taking action and filing an appeal with Disney's security, Swindler admits that this won't deter his love towards the company:
And Swindler sure doesn't sound like he's going to give up on this ban anytime soon. Watch out Disney, your lifelong fans are not quitters.
Your Daily Blend of Entertainment News