Florence And The Machine Forced To Cancel Tour Dates Due To Vocal Problems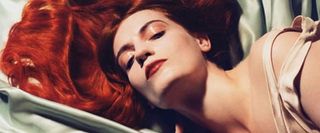 It's been a year of cancelled musical performances, a couple oddly enough due to stage collapses. Many of the cancellations occurred because certain vocalists have been dealing with voice troubles. John Mayer had to cancel some tour dates in the spring after determining he still had a granuloma on his vocal chords, and now Florence and the Machine is also cutting back on a couple of the band's tour dates.
The band is currently in the middle of a European tour, and later this week were expected to perform gigs in Spain and Portugal. However, due to vocal problems, the Thursday gig at the Benicassim Festival in Spain and the Sunday appearance at the Optimus Alive festival have both been cancelled. In a note posted on the band's website, lead singer Florene Welch confirmed her voice has gone out and her doctor has recommended bed rest for an undetermined period.
Since the shows this week were part of festivals, the dates will not be re-assigned, although MTV is reporting Florence and the Machine did recently add a date to the band's upcoming American tour. All in all, a weeklong break does not sound too serious, although it does suck for the Spanish and Portuguese fans who were hoping to see Welch and co. live. If the musician cancels some more dates in the coming weeks, expect us to report on something a little more serious. Until then, I hope the band members have plenty of time to relax and reinvigorate themselves.
Your Daily Blend of Entertainment News