Toy Story Land And Avatar's Pandora Are Coming To Disney Parks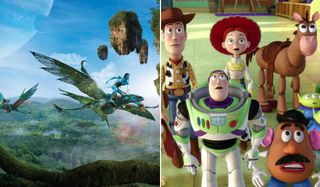 Big announcements from Disney's D23 Expo in Anaheim, CA and among them news of a few exciting expansions to Disney Parks. Headlining was most likely the new interactive Star Wars Land which plans to immerse fans into the world of Star Wars complete with Cantinas and a Millennium Falcon ride. But other expansions are also being made for different fandoms including a Toy Story Land and Avatar's Pandora.
Toy Story Land will take up an 11-acre expansion that takes you right into Andy's backyard. It will feel as if you've shrunk right down to toy size as you are surrounded by life size Woody, Buzz and all of Andy's adventurous little friends. There will be a bunch of interactive activities scattered through the park like big building blocks, plastic buckets and shovels, and game board pieces, as well as a number of new rides. This park is definitely on the family-friendly side of things with a family roller coaster which takes you on the back of Slinky Dog and an Alien Saucer spinning ride.
As for Pandora, the world of Avatar, Disney's Animal Kingdom guests will be immersed into an entirely new world. James Cameron himself was on hand at the Expo to reveal this gorgeous concept. The director teased an element of storytelling involved in the park, with great moments all for yourself to experience, not just a reiteration of the film. There will be some of the beauty seen in the film from floating mountains to bioluminescent forests, and especially at night, the land will transform into one-of-a-kind experience. As for rides there will be an Avatar Flight of Passage that simulates flight through the land on the back of a of a Banshee. Cameron said of the attraction:
There will also be a number of of extended night time attractions including a Kilimajaro Safari and the "Rivers of Light" which includes live music, floating lanterns, water screens and animal imagery.
The Avatar expansion marks Disney's largest expansion to the Animal Kingdom in history and is hoping to open before the release of Avatar 2, which is supposed to come out in 2017. As for Toy Story Land there also is now definite release date yet, but hopefully will come around the time of Toy Story 4's release also in 2017.
Your Daily Blend of Entertainment News
Your Daily Blend of Entertainment News
Thank you for signing up to CinemaBlend. You will receive a verification email shortly.
There was a problem. Please refresh the page and try again.