The Big Lebowski's NYC reunion: the bums win after all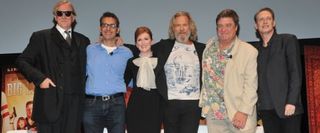 Wearing bathrobes and cargo shorts, Helga helmets and purple jumpsuits, carrying ball polishers and clinking White Russians, thousands of Big Lebowski fans descended upon the Hammerstein Ballroom in New York City last night-- and while there wasn't exactly a visible cloud of pot smoke surrounding the place, you could pretty much fill it in for yourself. The night's Q&A and screening was a promotion for the new Blu-Ray edition of The Big Lebowski, but it was also the second night of Lebowski Fest, the 10-year-running convention dedicated to all things The Dude. Needless to say, the people who have been attending the convention for a decade basically lost their minds when The Jesus (John Turturro), Maude (Julianne Moore), Walter (John Goodman), Donny (Steve Buscemi) and of course The Dude (Jeff Bridges) took the stage for the conversation.
The producers of the evening have put together two highlight reels featuring both the red carpet and the Q&A, which you can watch below. It doesn't really capture the feel of the evening, though, which was dominated by fans screaming quotes from the movie at the stage, which had Goodman cracking up the entire time and allowed Buscemi to kick things off with, "Well, first of all, you shut the fuck up." Then there was Turturro saying he's gotten a lot of "sex mail" written to The Jesus, Bridges claiming that The Dude is now working as a masseuse, and Goodman's response to the notion of a sequel: "It'll never happen. Why talk about it?" Bridges then closed out the night with the message he hopes everyone takes away from the movie: "That it's just, like, your opinion, man."
Staff Writer at CinemaBlend
Your Daily Blend of Entertainment News
Thank you for signing up to CinemaBlend. You will receive a verification email shortly.
There was a problem. Please refresh the page and try again.