2007 Fall TV Preview: Kid Nation On CBS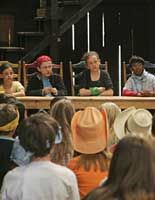 Kid Nation - Season 1
Premieres: Wednesday, September 19th at 8:00 p.m. EST
Network:CBS
Starring:40 children, between the ages of 8 through 15
Website: CBS.com (opens in new tab)
Welcome to Bonanza City, New Mexico where you can stop at the local watering hole and pick up an ice cold root beer for a nickel. Well, only if you are between 8 and 15 years old and your every moment is being documented by cameras. CBS has a new reality show airing this September called Kid Nation which features 40 children, ages 8–15 that have 40 days to build a functioning society set in an old western ghost town.
The town has no running water, no indoor plumbing and the NO ADULTS. The children will have to set up their own governmental structure and run their own businesses. The kids are even given different jobs and social classes, laborer, cook, merchant or upper class, every week by competing in showdowns. In this reality show nobody gets voted off but you can leave if you want to. The incentive for these kids putting up with having to milk goats, carry water from wells and wash dishes, is the a solid Gold star worth 20,000 bucks given to one kid at the end of every episode by the elected kid council at their weekly meetings.
This is a pretty cool concept for a reality show, but how did CBS get away with it? There are tons of child labor laws which limit the hours that children can work on television or film projects, not to mention the enormous amount of liability. Well, according to TV Week, New Mexico doesn't have the strictest of child labor laws, and CBS kept the filming of the show on the down-low and I'm sure parents had to sign big legal contracts.
CBS is banking on this show to be a huge hit, and if the promos are any indication there is no doubt that it will be. There has also been talk about filming a second season, but the only problem is the location. Now that the cats out of the bag the shows producers are going to have a difficult time finding a place in the U.S. that will allow children to participate in this type of project. I would ask Kathy Lee Gifford for a little advice on this subject.
Your Daily Blend of Entertainment News
Thank you for signing up to CinemaBlend. You will receive a verification email shortly.
There was a problem. Please refresh the page and try again.