2009 Midseason TV Preview: Flashpoint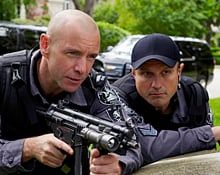 Flashpoint - Season 2
Premieres: Friday, January 9, 2009 at 9:00 PM ET
Network: CBS
Creator(s): Mark Ellis and Stephanie Morgenstern
Starring: Enrico Colantoni, Hugh Dillon, Amy Jo Johnson, David Paetkau, Michael Cram, Sergio Di Zio, Mark Taylor
Website: CBS.com
---
Flashpoint is a CBS drama series that centers on a team of people working for the SRU (inspired by Toronto's Emergency Task Force.) Their job entails rescuing hostages, busting gangs, defusing bombs and scaling buildings. They also have skills at profiling, negotiating and trying to get into the suspect's head. Because the they work in such high-risk situations, the team, which includes Sgt. Gregory Parker (Colantoni), Ed Lane (Dillon), Jules (Johnson), and Sam (Paetkau), all have to know how to deal with each unique, stressful situation they encounter and work together as a team to get the job done.
In the second season premiere, titled "Eagle Two," "What starts out as a routine security watch for the SRU turns into a critical situation when the wife of the man they were hired to protect is kidnapped from underneath their noses."
Your Daily Blend of Entertainment News
Thank you for signing up to CinemaBlend. You will receive a verification email shortly.
There was a problem. Please refresh the page and try again.