2010 Macy's Thanksgiving Day Parade Preview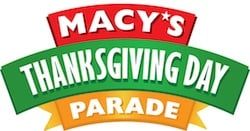 What better way to spend the morning of Thanksgiving than to relax around the TV with friends and family and watch the Macy's Thanksgivings Day parade. Or perhaps you're planning to have it on in the background while you're getting the turkey in the oven. Read on for some details about this year's broadcast!
My father's a big fan of the marching bands. I've always been partial to the balloons and the Broadway performances. I'm definitely looking forward to the Elf performance at this year's parade.
Matt Lauer and Meredith Vieira are lined up to host the 84th annual Macy's Thanksgiving Day Parade, along with Al Roker. As always, there will be plenty of celebrities featured throughout the event, among which include India Arie, Big Time Rush, Betty Buckley, Ann Hampton Callaway, the casts of Broadway's American Idiot, Elf, Memphis and Million Dollar Quartet, the Big Apple Circus, the cast and Muppets of Sesame Street, Miranda Cosgrove, Jimmy Fallon & The Roots, Gloriana, Michael Grimm, Arlo Guthrie, Keri Hilson, Eric Hutchinson, Juanes, Victoria Justice, Gladys Knight, Mannheim Steamroller, Miss USA 2010 Rima Fakih, Power Rangers Samurai, Joan and Melissa Rivers, Crystal Shawanda, Jessica Simpson, Kylie Minogue, and Kanye West.
Below are some clips from last year's parade.
2010 Macy's Thanksgiving Day Parade will air Thursday, November 25 on NBC (9 a.m. - 12 noon ET) on NBC.
Your Daily Blend of Entertainment News
Thank you for signing up to CinemaBlend. You will receive a verification email shortly.
There was a problem. Please refresh the page and try again.