SMILF Creator Frankie Shaw Being Investigated By Showtime Over Misconduct And Sex Scenes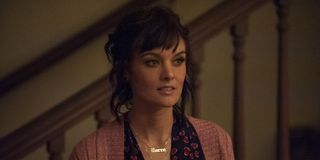 (Image credit: Image courtesy of Showtime)
The last couple of years have seen allegations of misconduct leveled at a number of industry professionals in positions of power, ranging from Harvey Weinstein to Les Moonves to the former NCIS: New Orleans showrunner. Now, SMILF star and creator Frankie Shaw is the latest to face allegations of misconduct on set, including how sex scenes were filmed. Now, ABC Studios, which produces the series, is investigating. Here's what happened.
Let's start with the sex scene issues. Concerns were raised about how sex scenes were handled on two separate occasions, both involving actress Samara Weaving. The first incident allegedly happened during the production of Season 1, when Weaving was informed with only 40 minutes notice that she was expected to participate in a nude love scene despite having a no-nudity clause included in her contract, and a waiver allowing it to happen was never signed.
Samara Weaving was hesitant to participate in the scene, which sources claims (via THR) led Frankie Shaw to draw Weaving into a trailer and pull off her own shirt to ask why Weaving had issues with nudity when Shaw herself did not. According to Frankie Shaw's lawyer, Shaw's breasts were not exposed at the time. The second sex scene incident is one which resulted in Samara Weaving reportedly claiming breach of contact and wanting off of the show.
The second issue arose in Season 2 when Samara Weaving was expected to participate in a second sex scene, working with co-star Miguel Gomez, who would be fully nude while Weaving was wearing only underwear and a t-shirt. The actors reportedly requested that their privacy be respected for filming, and so the set was closed and monitors outside of the room where they were filming were shut off.
Frankie Shaw was not present for filming, but she allegedly instructed a staffer to turn the monitors back on when she learned that they were off, exposing the actors to more than a dozen people outside of filming. Producer Michael London tells a slightly different version of events, stating that Shaw did not know that the set was meant to be closed and the monitors off, and the monitors were left on mistakenly when shooting actually began. Several of the people present evidently disagree with London's version of events.
The sex scene allegations are not the only ones raised regarding Frankie Shaw. The show is produced by Disney's ABC Signature Studios, and sources claim that multiple workers contacted Disney via the anonymous tip line about issues on set. The major talent guilds -- including WGA -- are apparently aware of the complaints, which include claims of writers being separated by race, being denied credit and compensation for their work, and assistants being tasked with writing assignments without being paid or credited accordingly. WGA is reportedly encouraging writers to file formal complaints.
Some who reached out via the anonymous tip line state that Disney provided feedback that "appropriate administrative action" had been taken. Meanwhile, several people from the show -- including the costume designer, location manager, camera operator, and members of the cast -- have spoken out in support of Frankie Shaw. Actress Rosie O'Donnell, who appears in the first two seasons and is expected to appear in the third if it's ordered by Showtime, reportedly contacted Showtime exec Amy Israel about issues on set (including the treatment of Samara Weaving).
That said, Rosie O'Donnell also released a statement in support of Frankie Shaw:
ABC Studios has stated that "complaints were brought to our attention after Season 2 production wrapped," and was clear that they "will take appropriate steps going forward if Season 3 is ordered." Meanwhile, Frankie Shaw remains in charge of SMILF as the show puts together its writing staff for Season 3, and she is reportedly in talks with Showtime to helm a limited series based on Sylvia Plath's The Bell Jar.
Only time will tell if anything comes of the investigation into Frankie Shaw. SMILF Season 2 premieres in the 2019 midseason TV premiere lineup Sunday, January 20 at 10:30 p.m. ET on Showtime.
Resident of One Chicago, Bachelor Nation, and Cleveland. Has opinions about crossovers, Star Wars, and superheroes. Will not time travel.
Your Daily Blend of Entertainment News
Thank you for signing up to CinemaBlend. You will receive a verification email shortly.
There was a problem. Please refresh the page and try again.