ABC Rolls Out The Red Carpet For Regis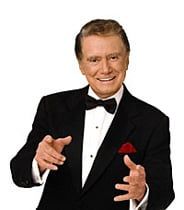 Well, you sure can't accuse him of being lazy. Just days after announcing he was cutting down his hosting duties on Live! With Regis and Kelly to three days a week next season, Regis Philbin has scored another gig. According to E!Online, everybody's favorite cranky grandpa will be hosting this year's official Academy Awards pre-show on ABC. The show, which airs on February 24th, will not be Philbin's first tour of red carpet duty; he first had the job back in the mid-seventies.
Apparently I'm not the only one excited by the prospect of watching Reege ask Reese Witherspoon who she's wearing. Oscar producer Dennis Doty says, "Regis is the perfect guy to serve as host. He knows everyone and everyone loves Regis! I'm thrilled that he has agreed to be the ringmaster for this year's extravaganza." Sure, everybody loves Regis, but I'll bet ten bucks that if you show him a picture of Naomi Watts and ask him who it is, first guess would be his tennis instructor, second guess would be Veronica Lake.
Even if you're planning on watching one of the other pre-shows on E! or the TV Guide network, you'll still be able to catch Philbin in all of his red carpet glory. As ABC is hosting the Oscars, its pre-show will be the only one aired during the half-hour immediately preceding the awards show.
Your Daily Blend of Entertainment News
Your Daily Blend of Entertainment News
Thank you for signing up to CinemaBlend. You will receive a verification email shortly.
There was a problem. Please refresh the page and try again.