Will Alex O'Loughlin Head For Hawaii Five-O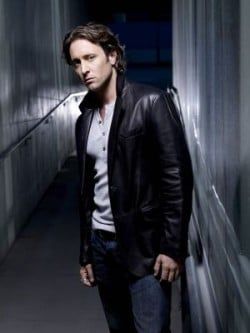 We've been hearing about plans to bring back Hawaii Five-O for years now, it seems. They've talked about it as a movie and more recently as a TV series back on CBS. It looks like the latter is the more likely scenario, and considering CBS is the home of the best crime procedurals on the air, who better to bring it back? But could Alex O'Loughlin star in it?
CBS certainly has the hots for him, giving him Three Rivers just after Moonlight failed, and audiences are still obsessing over his vampiric turn in Moonlight. Maybe they should make his character in Five-O a vampire. Add a supernatural element to the crime proceedings. Okay, O'Loughlin's not a done deal, but apparently the network is considering him
What is more certain is that Alex Kurtzman and Robert Orci (Fringe, Alias, Star Trek [2009]) are working with Peter Lenkov, executive producers of CSI: NY on the script, and will executive produce, according to Reuters. In fact, maybe they'll just call it CSI: Hawaii to be on the safe side. That'll at least guarantee viewers. Hawaii Five-O did run for twelve seasons, but the last of those was in 1980, so how well remembered is it with modern audiences?
To do the series justice, they'd probably have to set up in Hawaii; maybe they could buy up all the equipment the folks behind Lost won't be needing anymore to save on costs.
O'Loughlin is a good casting choice as he has the right charisma and charm to pull off the role. Plus, the ladies can swoon over him in a beautiful tropical setting as opposed to a sterile hospital, or brooding in his darkened apartment. Don't get me wrong, the brooding is well-received as well, but now he could brood over crystal blue waters and palm trees.
Your Daily Blend of Entertainment News
Your Daily Blend of Entertainment News
Thank you for signing up to CinemaBlend. You will receive a verification email shortly.
There was a problem. Please refresh the page and try again.