The Amazing Race Watch: Fishy Kiss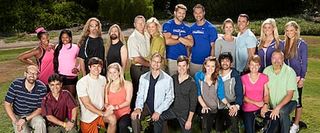 Last week, the six remaining teams continued to trek through Moscow. By now, it should be obvious that any leg that doesn't involve an airplane ride means there won't be much movement within the standings, and in this leg, the only contest was for first place, which saw Team Magic Mike edge out Team Texas for their first win. Team Capricorn continued to struggle but managed to avoid elimination because Team Rockstar, James and Abba, lost their passports in the previous episode and were unable to procure new ones. What an inauspicious way to go out. Five teams remain. BOMP.
Starting Line - Sokolniki Park in Moscow. The teams' first clue came in the form of the national flag of the Netherlands, which looks remarkably like the flag of a few other nations (two teams initially thought it was France). Once they discerned the country of origin, they must fly to the city of Amsterdam, The Netherlands, take a train to the Amsterdam Centraal station.
It was also revealed that this leg would feature not only a Fast Forward but a Double U-Turn. This may be a first… all five teams took different flights out of Moscow, with one direct flight (Magic Mike) and the others connecting through Rome (Evil Twins), Larnaca, Cyprus (Texas), Frankfurt (Abbie/Ryan) and Oslo (Capricorn). Ooh, that's a good sign there's going to be drama!
Outside the train station was a clue box that contained the Fast Forward, which required the team that took it to board a bus-boat hybrid called the Flying Dutchman, and eat five herring before it reached land (about seven minutes). For the other teams, they next got a Detour, and the choices were Back in Time or Organ to Grind. In the former, teams had to recreate Rembrandt's famous painting The Night Watch using actors and props, including themselves. In the latter, one team member had to operate an organ grinder while the other begged for money (thirty euros).
This leg's Double U-Turn was located at the Museum Geelvinck-Hinlopen, a 400-year-old building that is home to some very beautiful Renaissance Gardens. From there, teams were directed to a rural village field in the North Holland province of Ramsdorp. This was the site of a blast-from-the-past Roadblock. In Season 12, teams had to pole vault across a muddy ditch about twelve feet across, retrieve their clue (which was written on some classic Dutch wooden shoes) and vault back. Easy peasy.
The Pit Stop for Leg Nine was also located in Ramsdorp, at a very nice-looking rural abode dubbed "The House of Rembrandt's Mistress." Let's hope they've changed the sheets since then. At least it wasn't located in the Red Light District.
Below is the order the contestants finished in, along with some of their more interesting moments.
#1. Natalie and Nadiya - It took a while, but Team Evil Twins finally copped their second leg win. They did so by choosing a flight from Moscow to Amsterdam that got in before several other routes, but with a dangerously short layover time, which they still made. They were the first to land, and they also earned the season's second and final Fast Forward, giving them the victory at $5,000 each. Hopefully, it will be their last one, I'm so sick of their constant preening. It was fun watching them gag down a plate full of fish, though.
#2. Jaymes and James - In an interview, James confessed that winning the race is very important because his parents have enormous chemotherapy bills to deal with, and James wants nothing more than to take care of them. They made a pact with Evil Twins and Texas that the first team to the U-Turn would put the kibosh on Abbie & Ryan, and you could tell how much it pained them to do it, because they consider all the teams to be their friends. I mean, it sucks, but with five teams left, you can't take chances, and the U-Turn is there for a reason.
It's also not a coincidence that most of the awesome moments this season has been courtesy of Team Magic Mike. Example: they chose the Organ Grind Detour option, but they only got about halfway to their goal when the crowds stopped coming, so they did what they do best… strip down to their tight pants and tuxedo collars, and that brought the crowds (including dudes) back in droves. Love this team!
#3. Trey & Lexi - I have to hand it to team Texas, they are smarter than they look. They look like the cute couple from next door, but they've made very few mistakes this entire race. Once they saw that Magic Mike had U-Turned Ryan & Abbie, they used the second U-Turn on Magic Mike even though they knew that Magic Mike was ahead of them and would therefore not be affected. This prevented Abbie & Ryan from using it on Capricorn, and this proved to be the move that made all the difference.
#4. Josh & Brent - Starting hours behind the rest of the teams, they were amazed to catch up to Abbie & Ryan. Like before, they didn't feel the need to go balls-out to beat each other, and it seemed clear that any footrace would be won by Abbie & Ryan. What Team Capricorn didn't count on was that they would be reprieved yet again because Abbie & Ryan, the obvious threat, would be U-turned. And so, after nine legs of missing the Top Three, they miss it again but survive. Well, with only two legs to go, they cannot afford to miss the Top Three again, because fourth place is last place.
The following team came in last and was eliminated:
#5. Abbie & Ryan - One thing's for sure, Abbie and Ryan will not be vacationing in Frankfurt any time soon. For the second time in three legs, they chose to connect through Frankfurt and both times ended up missing their connecting flights. And then they boarded another plane that developed mechanical problems. Yikes. The final straw came with the U-Turn, which forced them to do the Organ Grind task in the middle of a downpour.
It's doubly tough because Abbie & Ryan won the very first leg, and with that came the chance to win $2 million, the largest prize in TAR history. But that also put a target on their back, and pretty much no team other than Capricorn would even give them the time of day after that. Plus, they put so much pressure on themselves to excel that they ended up sliding further and further behind, never regaining the top spot after Leg Three. And now they're done. Well, tougher teams than them have met similar ends.
Next week: the season's penultimate leg, as the four remaining teams travel to Spain in the hopes of avoiding the season's final Phil-imination.