America's Got Talent Watch - Quarterfinal #3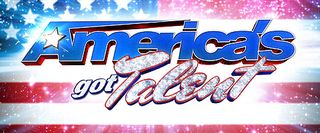 Last week, there was a great big brouhaha between Howard and Howie over a tone-deaf vertically-challenged singer named Big Barry. Howard took the (correct) position that he should never have been there in the first place, especially given that so many terrific singers had to be cut in Vegas, whereas Howie apparently felt that it is possible to be a horrible singer and still entertaining. Personally, I think Howie is full of shit on this subject, and thankfully, four terrific acts moved on instead.
This week was the third of four quarterfinal shows. After next week, there will be a break of several weeks due to the 2012 Summer Olympics, after which AGT will return on August 14th. This will be the YouTube show, which will be followed by the Wild Card show.
Here are the twelve acts that performed on Monday night, in the order that they performed in.
#1. The Untouchables - Imagine a group of utterly professional, completely synchronous dancers executing a perfect Latin ballroom routine. Now imagine that everyone in that group is a preteen. Is your mind blown yet? Well, that's what this group did. They are easily the best dance group of the season.(Result: through on viewer votes)
#2. Rock Star Juggler Mike Price - No matter what you may think about jugglers, there's only so much you can do with it. Even if Mike had executed a flawless routine (which he didn't), there's still just not enough there to merit a Vegas show. He could be the best in the world, but that's still not worth a million dollars. (Result: eliminated)
#3. Inspire the Fire - This is the only group of the season that both sings AND dances, and they've drawn numerous comparisons to Glee. I've enjoyed them up to now, but their rendition of Katy Perry's "Firework" felt rushed and off-key. They accepted the fact that they messed up with terrific grace, which is nice to see. (Result: eliminated)
#4. Cristin Sandu - It takes a lot for a balancing act to impress me, but what this teenage kid has been able to do has been impressive. It takes nerves of steel to balance on a series of staggered cylinders, and his nerves got the better of him on this night, as he was only able to stay upright for a couple of seconds before the apparatus collapsed. He's exceptionally talented, but his journey pretty much ended at that moment. (Result: eliminated)
#5. Elusive - It's something of a minor miracle that Turf was able to command enough votes to advance last week, because solo dancers have it so tough on this show. Elusive is very good at the basic B-boy moves, but he didn't really bring anything new and exciting, and the judges called him on it.(Result: eliminated)
#6. Jake Wesley Rogers - It's so hard to believe that Jake is only one year older than Edon, because he looks like he's at least eighteen, when in fact he's only fifteen. I think he's got a bright future ahead of him, but his toned-down piano rendition of Britney Spears' "Toxic" felt like it was lacking something. With the exception of Tim Hockenberry, this just hasn't been the season for male singers.(Result: eliminated)
#7. All Wheel Sports - I did not like this group of stunt bikers, trampoliners and cheerleaders during the auditions. On a big stage, it was too spread out, too busy, too much going on. However, on a smaller stage, with a well-choreographed routine, it was much, much better. So much more entertaining than the BMX guys last week. (Result: through on judges' decision)
#8. Wordspit and the Illest - Probably the only band this season with a shot, they took a huge risk by doing an original song. Not many bands can fuse rap and R&B like they can, and the lead singer is very good at getting the crowd into it. It's as intense as a performance by Rage Against the Machine. Howard applauded them for their decision, but Howie and Sharon said it probably would cost them votes. In the end, it came down to the judges' decision, and it went 2-1 against them. (Result: eliminated on judges' decision)
#9. Jacob Williams - Jacob is a comedian who really doesn't look like one; he plays up his shy, awkward exterior very well, but that's all I've heard him do so far. He's clearly a lot less experienced than Tom Cotter, but he's very funny, and I really like him a lot. (Result: through on viewer votes)
#10. All Beef Patty - I've got nothing against singing drag queens, but it takes a certain something to elevate an act like that above the level of mere cabaret. Two seasons ago, Prince Poppycock proved that it could be done. Patty, unfortunately, chose to surround himself with dancers while he stood still and sang "Let's Hear it For the Boy". It could have been terrific, but instead it was merely okay. (Result: eliminated)
#11. Spencer Horsman - This kid, who professes to be the world's youngest escape artist, has escalated the level of danger each time he's performed. This time, he escaped from a locked bank-bag while confined to a chain-mail straitjacket and suspended above a mat of sharp spikes. Where he goofed was that he made his escape behind a thin curtain, which rather took a lot away from the illusion. Still an impressive feat, though. (Result: eliminated)
#12. Light Wire Theater - Up until now, I hated this act because they seemed to be a less-impressive knockoff of Team iLuminate, the act that should have won last year but instead had to settle for third place. The difference between the acts is an ephemeral one; LWT seems to focus more on story telling than dancing. Tonight was their best act by a country mile, and it received standing O's from everyone in the theater. I am gradually starting to like them, but I just can't look at them without feeling a twinge in my gut. There was no way they weren't moving on. (Result: through on viewer votes)
So unlike last week, when about two-thirds of the field performed well enough to advance, this week was rather disappointing. Only two acts were sensational, and about three others were decent at best. I am expecting a huge turnaround next week, when the last group of Vegas Week quarterfinalists take the stage. This will include all three acts that were given a free pass through Vegas (Olate Dogs, William Close and David "Bullet" Smith), as well as sand artist Joe Castillo, mind-reader Eric Dittelman, ten-year-old mariachi phenom Sebastian, and dance acts Lindsey Norton, Unity in Motion and All That. Should be intense.
See you next week!
Your Daily Blend of Entertainment News
Thank you for signing up to CinemaBlend. You will receive a verification email shortly.
There was a problem. Please refresh the page and try again.