Anastasia Griffith Will Guest Star On Alan Ball's New Drama Banshee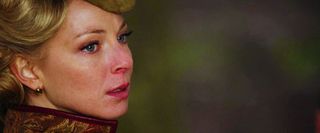 Once Upon A Time actress Anastasia Griffith is headed to Cinemax, where she will play a far less royal role. The actress has nabbed a gig in Banshee, Alan Ball's first project post True Blood that will follow an ex-convict who takes over as a sheriff in a small Pennsylvania town. The new sheriff has left behind an entire mob that he ripped off, and plans to continue his criminal activities while acting like an upstanding citizen. He'll have some help on the show from Griffith, at least in the mental department.
Griffith will guest star on Banshee as a prison psychiatrist. According to TV Line, her role will be to treat Lucas, assumedly prior to his moving to Banshee, PA and becoming the local criminal-turned-sheriff. Griffith joins a fairly long list of castings for the upcoming drama, including Antony Star as Lucas, Ivana Milicevic, Rus Blackwell, Ben Cross, and Odette Anable.
Cinemax is trying to get back into the original programming game, and Banshee will be one of the subscription cable network's new efforts. We're still a ways off from watching the 10-episodes series, but Cinemax has produced the first preview for the Banshee, which features a lot of bag guys and more than a little nudity. I'd say Alan Ball is a pretty good bet, but if you want to see how Cinemax is doing with new programming before the drama airs, you can check out Hunted, which premieres on the network next month.
Banshee is expected to hit the channel in January of 2013.
Your Daily Blend of Entertainment News