12 Horror TV Shows Available To Stream On HBO Max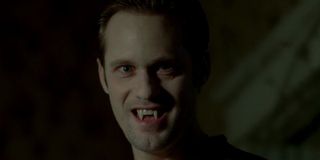 More often do people think of HBO (or, if you come from a pure streaming household, HBO Max) as a hub that best specializes in series related to detective noir, clever comedy, or epic fantasy. Of course you also have your fans of True Blood and other horror TV shows that make it a great place for binging during the spookiest of seasons (or any season for the most committed fans to frights and fun).
While the more recently launched streaming platform may share a name with the cable channel known for bringing the box office (and its own episodic programming) to your home, it also serves as a one-stop shop for all kinds of different content originating from the BBC, Adult Swim, or Turner Classic Movies, to name a few. Thus, the selection of TV shows that offer up indelible disturbances, ominous oddities, and even hilarious haunts comes at a plentiful and eclectic variety.
Yet, as always, when it comes to finding the right series to invest your time into, the choice can be a rather demanding and horror fans know that feeling better than most. To put your nightmares of indecisiveness at ease and allow the nightmares on your television to begin sooner, we have compiled our picks of the 12 best TV shows on HBO Max that offer a scary good time, starting with this new monster hit.
Lovecraft Country (2020-Present)
After returning home from the Korean War, a young, black Chicago native (Jonathan Majors) learns that his favorite fantasy stories are more than a product of the imagination while searching for his missing father in Jim Crow Era America.
Why It Is A Good Option For Horror Fans: It should be clear from the name of one of horror's most influential writers appearing in the title that snarling beasts and other strange phenomena are to be expected in Lovecraft Country (based on Matt Ruff's 2014 novel), but not even its innumerable classic references to the genre are as terrifying as the brutally honest depictions of racial injustice in this HBO original from developer Misha Green and executive producers Jordan Peele and J.J. Abrams.
Stream Lovecraft Country on HBO Max here (opens in new tab).
Fantasmagorias (2017-2018)
The vengeful spirit of a murderous mother who appears as a crying lady, a landowner suspecting his neighbor's dogs killed his goats learns the more terrifying truth, and two brothers' experience none of the fun and games they hoped for while using a Ouija board on a camping trip are just the tip of the iceberg for what bone-chilling tales are in store for you in this collection of Spanish-language short films.
Why It Is A Good Option For Horror Fans: Hosted by an unnamed, cigarette-smoking narrator who makes Rod Serling look like Mr. Rogers, Fantasmagorias is an anthology of brutal interpretations of the most feared legends from Latin American folklore lasting only minutes (but haunting you for longer) brought to life by cutting-edge, experimental animation that combines CGI with traditional 2D graphics.
Stream Fantasmagorias on HBO Max here (opens in new tab).
Carnivàle (2003-2005)
During the Great Depression, a fugitive (Nick Stahl) working for a traveling sideshow and a California Methodist preacher (Clancy Brown) doing his best to serve God's will both possess unusual gifts that lead them to a shared destiny as crucial pawns in a world-shattering conflict.
Why It Is A Good Option For Horror Fans: Created by Daniel Knauf, also a producer on The Blacklist and the Jonathan Rhys-Myers-led reimagining of Dracula, the Emmy-winning Carnivàle only lasted two seasons on HBO, but has since been remembered as an addictively suspenseful, visually stunning period drama with engrossing themes of the ultimate battle between Good and Evil.
Stream Carnivàle on HBO Max here (opens in new tab).
True Blood (2008-2014)
Set in a world in which vampires and humans can co-exist thanks to a drink that effectively substitutes human blood, a telepathic waitress (Anna Paquin) from Louisiana gains firsthand insight into the lingering tension between the mortal enemies after falling in love with a handsome, fanged stranger (Stephen Moyer).
Why It Is A Good Option For Horror Fans: From Six Feet Under creator Alan Ball, True Blood is a funny, sexy, and deliciously macabre adaptation of Charlaine Harris' novel series The Southern Vampire Mysteries, offering a unique, modern-day take on horror folklore that also involves werewolves, shapeshifters, and other fantastic beings over the course of seven seasons.
Stream True Blood on HBO Max here (opens in new tab).
Ghosts (2019-Present)
A young couple (Charlotte Richie and Kiell Smith-Bynoe) struggle to cope with the prospect of sharing the luxurious country home they recently inherited with the spirits of people from various backgrounds and time periods whom haunt it.
Why It Is A Good Option For Horror Fans: The classic haunted house story trope, instead of the traditionally frightening avenues it is best known for, takes on the form of a roommate sitcom in the vein of Friends with Ghosts, a fun and unique hit horror-comedy series from BBC One that currently has only its first, six-episode season available to stream on HBO Max.
Stream Ghosts on HBO Max here (opens in new tab).
Bedlam (2011-2013)
Tenants of an upscale, recently converted London apartment complex find their luxurious, modern existence interrupted by the appearance of horrifying and vengeful apparitions who expose the building's past as an insane asylum.
Why It Is A Good Option For Horror Fans: For those craving less laughs and more screams, Bedlam, which also stars Theo James before the Divergent films made him a household name in America, is yet another British import that has far more spiritual hauntings on the side of the macabre in its sole two seasons than Ghosts can offer.
Stream Bedlam on HBO Max here.
The Fades (2011)
A teenage boy with the unexplainable ability to see the burdened spiritual remnants of the dead becomes the last hope of the living when one angry entity figures out a way to make himself human again.
Why It Is A Good Option For Horror Fans: If the gruesome supernatural thrills of The Fades (an acclaimed, six-part, British miniseries from award-winning Enola Holmes writer Jack Thorne) does not sound so interesting to you, at least watch it to see some of your favorites celebrities before achieving States-side stardom, such as a pre-Game of Thrones Ian Hanmore and Natalie Dormer, future Scottish Agents of S.H.I.E.L.D. star Iain De Caestecker, Lucifer's Tom Ellis, and a young Daniel Kaluuya years before Get Out made him an Academy Award-nominated A-lister.
Stream The Fades on HBO Max here (opens in new tab).
Death Note (2006-2007)
A highly intelligent teen becomes a vigilante against the world's most feared criminals simply by writing their names inside a blank book he discovers has deadly capabilities.
Why It Is A Good Option For Horror Fans: Based on the intriguing manga of the same, Death Note is a hugely popular anime series lasting just 37 episodes between 2006 and 2007 that brilliantly fuses crime drama with themes of supernatural fantasy in the darkest degree, which would later inspire an Americanized, live action film adaptation on Netflix that most fans of the original would probably suggest you skip.
Stream Death Note on HBO Max here (opens in new tab).
Todd McFarlane's Spawn (1997-1999)
Slain by his double-crossing best friend, skilled mercenary Al Simmons (Keith David) struggles to outrun the armies of both Heaven and Hell while using his powers as a force against corruption on Earth from beyond the grave.
Why It Is A Good Option For Horror Fans: Speaking of comic books with controversial live action adaptations, fans of the Image series Spawn would also more than likely recommend you watch this Emmy-winning show, heralded today as one of the finest animated superhero adaptations of all time, over the 1997 live action film which original creator Todd McFarlane is currently working on a reboot for.
Stream Todd McFarlane's Spawn on HBO Max here (opens in new tab).
The Outsider (2020)
Upon the discovery of a brutally murdered 11-year-old boy, a veteran Georgia police detective (Ben Mendelsohn) is baffled by proof that the child's teacher and little league coach (Jason Bateman) is responsible and conflicting evidence that proves his involvement is impossible.
Why It Is A Good Option For Horror Fans: At first, The Outsider, a highly acclaimed and engrossingly suspenseful HBO original, seems like yet another TV series to add to your list of typical crime thrillers, but given this is also an adaptation of a best-selling novel by horror maestro Stephen King, audiences can rightfully assume that something far out of the ordinary is afoot with this investigation.
Stream The Outsider on HBO Max here (opens in new tab).
Off The Air (2011-Present)
Topics that range from the mundane (such as food or work), the broad and mystifying (like religion or space travel), or the just plain grim (death, in particular) serve as the inspiration for stylistically diverse live action clips and animated sequences presented in each 11-minute installment of this anthology series.
Why It Is A Good Option For Horror Fans: There is not one definite way to you can describe that various short films on Off the Air, named for its reputation to seemingly appear at random times late at night on Adult Swim, but one aspects that connects all 37 of these brazenly surreal and even comical segments is this constant feeling of unease and existential dread that firmly plants it within the horror genre.
Stream Off the Air on HBO Max here (opens in new tab).
Room 104 (2017-2020)
A seemingly normal room in an American hotel serves as the connective tissue for a series of self-contained stories, including a housekeeper who meets her younger self, a reporter interviewing a woman who claims to be an android, a family from a '90s sitcom seeking a new life structure, and plenty more tales that only become stranger throughout its four seasons.
Why It Is A Good Option For Horror Fans: From co-creators Mark and Jay Duplass, Room 104 is yet another anthology TV show that is impossible to describe in one particular way with some episodes identifying as comedy, some as grounded drama, and others as quirky sci-fi, but when it delves into the territory of horror, it really goes for it and makes for challenging 30 minutes.
Stream Room 104 on HBO Max here (opens in new tab).
What do you think? Did any of the random episodes of Room 104 that you may have stumbled upon while flipping channels scare you, or do you believe that Ghosts qualifies as a more traditional horror experience by comparison? Let us know in the comments and be sure to check back for additional information and updates on what is (or will soon be) available to stream on HBO Max, as well as more of our own recommendations of the scariest movies and TV shows to watch during the Halloween season (or any season), here on CinemaBlend.
Your Daily Blend of Entertainment News
Jason has been writing since he was able to pick up a washable marker, with which he wrote his debut illustrated children's story, later transitioning to a short-lived comic book series and (very) amateur filmmaking before finally settling on pursuing a career in writing about movies in lieu of making them. Look for his name in just about any article related to Batman.
Your Daily Blend of Entertainment News
Thank you for signing up to CinemaBlend. You will receive a verification email shortly.
There was a problem. Please refresh the page and try again.