Betty White Is Armed And Dangerous In First Image From Her Community Episode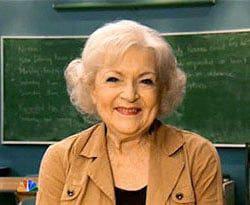 Betty White's guest appearance on the season premiere of Community is rapidly turning into one of my most anticipated television events of the fall. When the show returns on September 23 the 88-year-old comedic treasure will play a demented anthropology professor named Jane Bauer who, apparently, drinks her own urine because she believes it gives her power. No, seriously. Maybe the similarity of her last name to a certain Jack Bauer is no coincidence? There seems to be a special level of crazy going on here. She even seems to have a thing for killing powered weapons.
The image you'll see below is from this week's Entertainment Weekly, and it's our first ever look at Betty in her Community episode. She seems to be wielding some sort of bow and arrow… with a scope. When Betty White draws a bead on a target, she does so with deadly accuracy:
According the EW blurb accompanying the picture, whatever it is she's about to do with that weapon is "completely illegal" and may land her in "the slammer". Be prepared to bail Betty White out of jail when she guest stars on Community September 23rd.
Your Daily Blend of Entertainment News