The Biggest Loser: Battle of the Ages Watch - Week 12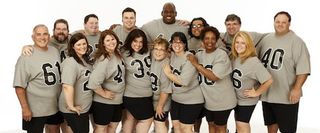 Last week was the much-anticipated Makeover Week, where the five remaining contestants got head-to-toe makeovers, cool and stylish clothes to wear to celebrate their new bodies, and a chance to walk the red carpet before being joyfully reunited with their significant others. It was very sweet and uplifting and all, but there was still a weigh-in to be had, and Antone fell below the Yellow Line for the first time this season, along with Sunny, who was ultimately sent home in fifth place.
Tonight's episode featured the Final Four going back to their hometowns, where they will prepare themselves for the most crucial weigh-in of the season. The two contestants who lose the greatest percentage at home will automatically earn a spot in next week's finale; the other two will fall below the Red (not Yellow) Line, and the one who garners the most viewer votes will be joining them, while the other vies for the at-home prize. I'm not sure how America feels regarding Antone, Becky and Vinny, but I feel sure that even though he is in first place by a wide margin, John would not win heads-up against any of those three.
The episode starts with each contestant being limo-ed to a location in their hometown that is jam-packed with friends, family and other community members. Three of the four remaining contestants, it should be noted, are from the Southeastern U.S.: Vinny hails from Nashville, Tennessee, which is not far from Knoxville, where Antone grew up and played his college ball. Becky, as I've mentioned is a schoolteacher in Benton, Arkansas, and John lives not far from myself, in the city of Mesa, Arizona.
Everyone made their dramatic entrances, eliciting cheers, gasps and tears of joy from the assembled masses. Vinny's was the coolest, though, as his entrance took place on stage with his band, Trailer Choir, at the same nightclub where they played their first gig four years ago. They started singing a song called "Love Me First", and then Vinny strolled on stage, took the mike and started singing along. Now, THAT'S an entrance!
All the contestants, as per tradition, were instructed to watch a DVD that included footage of their journey thus far as well as a stern warning from their Day One selves. We saw Vinny telling Dolvett explaning about the abuse that he suffered at the hands of his father, as well as his anger at his mother for allowing it to happen for so long. This was the cue for Vinny and his mom to have the discussion that's been decades in coming. She made no excuse for her neglectful behavior, and only explained that she was made to feel just as worthless by her husband as Vinny was. I hope, somewhere, this dreadful man is watching his former family re-bond and grow strong without him, and the guilt is tearing him up inside.
The next day, however, things got a lot happier. Vinny took his girlfriend Lori onto the stage at the Grand Ole Opry, and then proceeded to drop to one knee and propose to her on the same spot where legends like Johnny Cash and Waylon Jennings performed. She accepted, of course.
For Antone, party of his routine now includes taking his entire family to the gym and working out with them. He even takes turns bench-pressing his kids, including his teenage son and daughter, who are not as tiny as his other two children. They are impressed (as am I), because before he left, he could barely life his sixty-pound son at all.
Lucky for Bob, all three of his remaining charges live in the same neck of the woods. He starts his home visits with Vinny, and is impressed with how he's been sticking to his regimen since leaving the Ranch. He also has a conversation with Vinny's older brother Shane, who looks to be about the same weight Vinny was at the start of the season. Shane has five kids of his own, and Bob charges Vinny with the task of getting Shane back onto the right path, a task that Vinny accepts with gusto.
When Dolvett visits John, he learns that John has not yet returned to his job, and is totally focused on training hard for the marathan and the finale. This has entailed letting his wife do all of his cooking and laundry and whatnot, and this concerns Dolvett, because that's not a pattern of behavior that will go on forever. The competition will end at some point, and Dolvett wonders if John – who has focused on nothing but victory all season – will revert to his old ways once he has nothing left to compete for. Valid concern. Quite a few former contestants, including a couple of winners, have slipped off the wagon and put most of their weight back on.
After some hometown workouts, the time finally came for the marathon. All of the contestants were reunited, once again wearing the gray tees that they started in, the ones embossed with their numerical age on the front. Perhaps not surprisingly, the race took place in the same expanse of barren desert that they could barely run a mile in during Week One. All that's changed, of course, and now all fifteen contestants have one goal in mind: win the marathon, win a spot in the finals.
Of course, this automatic spot in the finals, if it goes to one of the eliminated contestants, means that the Final Four's final weigh-in will be devastating, since there will be only three finalists. The two people above the Red Line will be in the finals, and the two below it will be elimianted.
It's worth noting that most of the ousted constestants look damn good. We won't know whether they've been able to continue their journey successfully until next week, but if I had to single out a few of them for special attention, it would be Patrick, Jessica, Ramon and Sunny. They all look outstanding.
Before starting off, Alison announces that there would be some cash prizes as well: fifth place gets $2,500; fourth place gets $5,000, third place gets $7,500, second place gets $10,000, and the winner gets $25,000. Wow, that's motivation! Sadly, Bonnie, who is having knee surgery the following week, had to sit the event, which is probably just as well. Sadly, injuries took their toll on quite a few contestants… Dr. H made the decision to pull Vinny from the race right at Mile 20, and Joe begrudgingly has to stop just after finishing Mile 21.
Here are the final results:
1. Ramon, 5:05:41, wins $25,000 and a spot in the Finals.
2. Courtney, 5:09:01, wins $10,000.
3. John, 5:15:39, wins $7,500.
4. Jessica, 5:17:25, wins $5,000.
5. Patrick, 6:24:31, wins $2,500.
6. Sunny, 6:45:29.
7. Jennifer, time unknown.
8-9. Antone and Becky, 7:15:27.
10. Mike, 10:14:21.
11-12. Debbie and Johnny, 10:41:25.
13. Joe, pulled at Mile 21.
14. Vinny, pulled at Mile 20.
15. Bonnie, did not compete.
And now, this week's numbers:
John - lost 29 pounds (-178 total), -9.79%, now stands at 269.
Antone - lost 30 pounds (-154 total), -9.29%, now stands at 293.
The following two contestants finished below the Red Line:
Vinny - lost 28 pounds (-140 total), -8.92%, now stands at 286.
Becky - lost 10 pounds (-76 total), -5.81%, now stands at 162.
Wow. Those are phenomenal numbers. I am just blown away. I do feel bad for Becky, because she had a near-impossible task of keeping pace with the guys when she's getting so close to her own ideal weight. And for Vinny to drop 28 pounds and still come up short? That's got to be heartbreaking.
Kudos. To John, for proving once again that he's the man to beat. To Antone and Vinny, for busting through the 300-pound barrier, hopefully never to look back. And to Becky, for finishing the season the lightest person of the bunch, lowering her BMI to 26.1 and now standing a few pounds away from being classified as "normal".
So for the first time ever, the three people vying for the title of Biggest Loser and the $250,000 prize are all men, and will guarantee that a man will win it for the third straight year. And while it would have been poetic to have one finalist from each of the three age groups, we'll have to settle for having one finalist from each trainer's team after the reshuffle took place. Anna will be backing Ramon, Dolvett will continue to back John, and Bob has Antone representing the Black Team.
Standings. John's 29 pounds increases his percentage to 39.55%. Antone is in second place at 34.45%. When Ramon was eliminated two weeks ago, he claimed his weight was 245… now, I'm not sure how many weeks actually passed between that interview and the marathon, but using that as a yardstick, a weight of 245 would put his percentage at 30.99%. Needless to say, this is, and always has been, John's contest to lose.
Next week: It all comes to an end, as three of the fiercest competitors ever to walk the Ranch take the scale one final time to determine a champion.
Your Daily Blend of Entertainment News
Thank you for signing up to CinemaBlend. You will receive a verification email shortly.
There was a problem. Please refresh the page and try again.