Cake Boss Season 3 Preview: Ciao Valastros!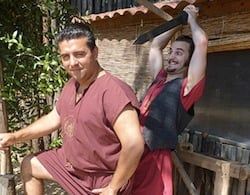 Cake Boss is set to return to TLC tonight with a one hour special that will feature Buddy and the family as they head back to the old country to celebrate their heritage (and bake a few cakes, most likely).
Having been to Italy earlier this year, I can personally attest to the country's beauty and abundance of delicious food. I can't wait to see what the Valastro family gets up to while visiting there, enjoying time with the family and getting down to business. Based on the video below, there's plenty of play but also some work thrown in (and some potential cake-drama as they attempt to bake in an unfamiliar kitchen).
Below is TLC's description for tonight's premiere and further down is the video promo.
Cake Boss airs Mondays at 9:00 p.m. ET on TLC.
Your Daily Blend of Entertainment News
Thank you for signing up to CinemaBlend. You will receive a verification email shortly.
There was a problem. Please refresh the page and try again.