Californication Season 5 Preview: This Old Dog And The Hanksta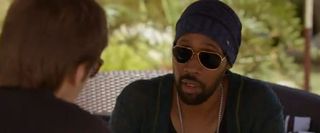 Californication remains one of the funniest and most enjoyable series to watch, at least, when the show stays away from its rare maudlin moments (and coinciding self-conscious camera-work). David Duchovny's Hank Moody is a glorious train-wreck who always finds himself surrounded by an equally messed-up and endlessly entertaining ensemble of characters. The announcement of its fifth season return this January was enough to get me excited and these new promos, well, they only added to the anticipation.
As we learned in a previous post and promo (opens in new tab), the new season of Californication not only features the return of all of our favorites - Hank, Becca, Karen, Runkle and Marcy - but also many recurring guest spots for both familiar and completely new faces. Fan favorite Steven Tobolowsky will be back as well Season 3's Jason Beghe (reprisinging his role of, 'mangina enthusiast' and revovering alcoholic, author Richard Bates). It also seems like Bates, who has a history with Karen, might be her new husband as things with Michael Ealy must not have worked out... it is three years later afterall.
However, the most exciting developments are the new characters being introduced this season including Scott Michael Foster coming in to play a 'younger Hank' intent on dating Becca, the gloriously attractive Meagan Good as a treacherous new love interest (treacherous because she is linked to...) and RZA as rapper turned actor who's hoping that Hank Moody will write his new screenplay for him. It's called 'Santa Monica Cop.' And just so you know, that's nothing like Beverly Hills Cop because, you know, this is Santa Monica. Here's a preview of some of the challenges that are in store for Hank this year (I don't think he's been hung over a building by his ankles before, so there are still first times even for someone like Moody).
Californication returns to Showtime for its fifth season on Sunday, January 8 at 10:30 p.m. ET. It stars David Duchovny, Natascha McElhone, Madeleine Martin, Evan Handler, Pamela Adlon, Madeline Zima and Steven Tobolowsky. Joining this season in guest spots are the RZA, Meagan Good, Drea de Matteo and Scott Michael Foster. It was created by Tom Kapinos.
Your Daily Blend of Entertainment News
Thank you for signing up to CinemaBlend. You will receive a verification email shortly.
There was a problem. Please refresh the page and try again.