Conan O'Brien Surprises Staffer With Jon Hamm For Christmas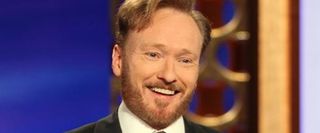 The holidays are almost over. Most of us are recovering from several days of overeating, family drama, and possibly heavy drinking. Sure, we've still got New Year's Eve to look forward to, but many of us are already back at work this week, settling into the final days of 2011. I'm sure we've all come away from this holiday season with a new set of anecdotes about how Uncle Charlie almost set the tree on fire, or how your great grandmother kept telling racist jokes for 20 minutes while everyone in the room pretended not to hear her. Good times.
You weren't the only one with a memorable holiday break, however. For instance, this year Conan O'Brien decided to break his long-standing tradition and actually participate in his staff's Secret Santa contest. Naturally, he posted a video of it. Once he actually finds a staffer he recognizes, he's left with the task of coming up with a clever gift for talent coordinator Ashley Olivia. I wonder how it all worked out...
Conan airs weeknights at 11/10 central on TBS.
Your Daily Blend of Entertainment News
Your Daily Blend of Entertainment News
Thank you for signing up to CinemaBlend. You will receive a verification email shortly.
There was a problem. Please refresh the page and try again.