DirecTV Orders Original Series Rogue Starring Thandie Newton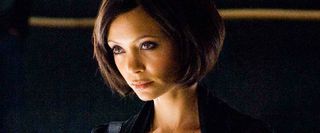 DirecTV has been in the exclusive programming business for some time, offering its customers first-runs like Underbelly, The Slap and the upcoming, Hit & Miss as well as providing a new subscriber-based home for series such as Damages and Friday Night Lights, but they have yet to actually make a show of their own. Until now. Under the obvious influence of competitors trying their hand at original programming, DirecTV just announced an order of ten episodes of Rogue, an original dramatic series exclusively for their customers.
Rogue was created Matthew Parkhill (The Caller), who will also serve as the primary writer on the series. Starring Thandie Newton (Crash), the thriller revolves around Grace, "a morally and emotionally conflicted cop" who is always burdened by guilt about the possibility that her actions may have contributed to the death of her son. Making things slightly more difficult is the fact that, while Grace is trying to solve the case (and presumably others) she continues an unwise relationship with a crime boss. The same crime boss who may or may not have had a hand in the crime. I'm sure this will seem more compelling when we actually get to see Newton in action, as well as learn more detail about the rest of the cast (particularly who will be playing said 'crime boss').
Chris Long, Senior Vice President Entertainment and Production at DirecTV simply said,
Seems like a good idea to me but we'll see if they can actually pull it off. The commitment to talent seems clear and that's always the most important first step. Production on Rogue is scheduled for the beginning of August with hoped for a series premiere the following summer on DirecTV's Audience Network. The new series will also air on Canada's The Movie Network and Movie Central (similar subscription based channels to DTV) which is no surprise since eOne is a Canadian based production company. What do you think of the new thriller starring Thandie Newton?
Your Daily Blend of Entertainment News
Thank you for signing up to CinemaBlend. You will receive a verification email shortly.
There was a problem. Please refresh the page and try again.