Doctor Who Christmas Episode Countdown Will Include Marathons And Specials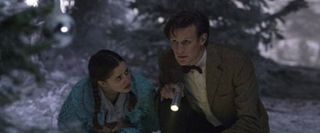 The Doctor Who Christmas episode has been a tradition for a while now, sending the Doctor on one-off adventures that always manage to be infused with the holiday spirit. In recent years the Doctor has wound up on a space-faring version of the Titanic, absconded with a runaway bride, and landed on a planet that was like a steampunk version of Charles Dickens' novels. This year the Doctor will yet again be ringing in the season with a Christmas episode, and BBC America will be celebrating the event with an onslaught of programming leading up to the episode itself.
BBC America will launch the festivities on Friday, December 23rd at 9 pm ET/PT. The network will be airing all of the recent Who Christas specials, from "The Christmas Invasion" up through last year's "A Christmas Carol." Saturday night at 8pm ET/PT they'll have the world premiere of the brand-new Doctor Who: Best of the Christmas Specials. The best-of show will feature celebrity Who fans from various industries discussing their favorite moments from the Christmas specials over the years. On Sunday, Christmas Day, they'll launch into a marathon of all 13 episodes of the recently aired season six.
Finally, Sunday night, Christmas night, the countdown will culminate with this year's new Christmas episode: Doctor Who: The Doctor, the Widow and the Wardrobe. This year the Doctor will travel back to World War II, and here's how BBC America's press release describes the action:
The Doctor, the Widow and the Wardrobe premieres December 25th at 9pm ET/PT. You can check out the trailer below. Now if we can only get another gorgeous Christmas song like last year...
Your Daily Blend of Entertainment News
Thank you for signing up to CinemaBlend. You will receive a verification email shortly.
There was a problem. Please refresh the page and try again.