FlashForward Plus Kapoor Minus Goyer Equals Renewal?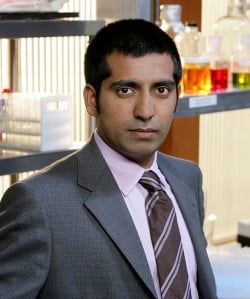 Ravi Kapoor will be making his way to FlashFoward, as reported on Sci Fi Pulse. There's actually been a lot of talk about the ABC series, returning March 18 with a two-hour episode, after a 15-week hiatus. And Kapoor isn't even the biggest change to the creative team, as showrunner David S. Goyer stepped down to tackle the latest Batman and Superman films.
After appearing as a regular on Cross Jordan, Kapoor has been seen in My Name Is Earl, Numb3rs, Heroes, 24 and Fringe. It looks like his role on FlashForward may have a little more meat to it than those. He will reportedly play a man that Aaron Stark meets while in Afghanistan looking into his daughter's disappearance, and her story is one of the key roles in the series.
The show is coming back much closer to the April 29, 2010 "flashforward" date everyone saw. No worries if you missed out on the first ten episodes. ABC just announced a recap special. FlashForward: What Did You See? will air on Tuesday, March 16 at 10 PM ET, just in time for the Thursday, March 18 at 8 PM ET. The network is even going to re-air the two-hour premiere on Saturday, March 20 at 8 PM ET. That's a lot of effort being put into the return of a show that was on a ratings decline when last we saw it.
That's actually good news for fans who've been wondering how the premise could survive beyond the first season. Originally, the season was going to end shortly after the April 29 episode, but now it's going to run a full month after, wrapping with a two-hour finale on May 27. This means we'll have weeks to see what else the writers have in store, and what more there is to the story.
Reports have indicated that FlashForward actually stands a decent chance of coming back next season as well. For one thing, it's an ABC Studios production, which means it's much cheaper for ABC to keep on the air than a show from another production company.
But the biggest factor appears to be its popularity overseas. While the series shed approximately 40% of its viewers over the course of its initial run in the US, it remains one of the more popular exports for ABC. That strength, which means revenue, might be enough for ABC to give it a second try.
Your Daily Blend of Entertainment News
Thank you for signing up to CinemaBlend. You will receive a verification email shortly.
There was a problem. Please refresh the page and try again.