HBO to Exclusively Release Summit's Films Starting January 2013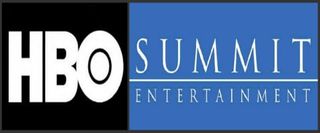 With Summit Entertainment's cash cow, the Twilight series, finally, thanks to all that is holy, coming to an end (with Breaking Dawn: Part 1 due out November 18, 2011, and BD Part 2 November 12, 2012), it's about time the mini-major made some major moves... and that's exactly what they've done.
Summit Entertainment and HBO have just released a statement about their interesting new partnership. In what they are calling an exclusive output agreement, HBO will release Summit's slate of films beginning January 2013 and continuing until the end of 2017...you know, pending no rapture or 2012 apocalypse.
President of Film Programming at HBO Bruce Grivetti said that they "are committed to delivering the best filmed entertainment to our subscribers and we believe Summit, an innovative and exciting producer, will play a vital role in the fulfillment of this promise." The love fest continued when Summit CEO Rob Friedman added that "we are proud to be in business with HBO and have our films programmed alongside many of the industry's leading studios."
Despite the lovey-dovey words exchanged by the big-wigs during the announcement, this is actually pretty big news considering that some of the films scheduled to participate in this new partnership are the Highlander remake, Ender's Game, and Pompeii 3D (from underrated genre filmmaker Paul W.S. Anderson). So there you have it. Look for Summit's titles to hit HBO starting in 2013.
Your Daily Blend of Entertainment News
Thank you for signing up to CinemaBlend. You will receive a verification email shortly.
There was a problem. Please refresh the page and try again.