6 Other Franchises That Need A Do-Over After The Suicide Squad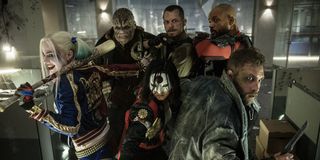 DC's alliance of bad people who do good are returning to the big screen in 2021 with The Suicide Squad. However, this follow-up is apparently not a sequel to 2016's Suicide Squad, nor technically a reboot, but, as director James Gunn calls it, "It is what it is." We are just going to assume that is code for, "We tried it again."
More frequently than Hollywood would like to admit, potential franchise vehicles often end up ruining the chance of a sequel on the first strike, due to poor critical reception, embarrassingly low box office returns, or both. However, I believe that any hopeful film franchise deserves a second (or even third) chance, even these six notorious franchise-killers.
The Dark Tower
Stephen King's highly acclaimed novel series following a lone gunslinger's mysterious quest through an apocalyptic wasteland may never see the adaptation fans believe it deserves. The 2017 theatrical film starring Idris Elba and Matthew McConaughey was labeled as an uneven mess by critics, disowned by King fans for numerous differences from the books, and fell about $10 million short of earning back its $60 million budget, officially putting a stop to plans for a TV-series spin-off.
The idea of making a saga as expansive as The Dark Tower into a TV series is definitely the right one, and almost happened on Amazon Prime until they optioned not to move forward with it. If it ever does happen, however, it must properly honor the source material this time. Stephen King keeps the readers on their toes consistently throughout the series by keeping many of its key plot elements shrouded in mystery before an engaging reveal, something the movie was criminally ignorant of.
Ender's Game
Orson Scott Card's tale of a boy genius' fight to defend humanity from a malevolent alien race was adapted into a feature film in 2013, intended to be the first of a series. However, budget constraints, a boycott of the film over the book author, and unimpressive box office returns prevented Ender's Game from leveling up.
Like The Dark Tower, there was talk at one time of turning Ender's Game into a TV series which, also like The Dark Tower, would be the best way to adapt Orson Scott Card's saga. The first of the 16-novel series actually chronicles the protagonist's aging from six to adulthood, and it might be a good idea to stick with that timeline over a multi-episode arc, instead of causing an emotional disconnect to the character by keeping him the same age throughout and speeding up the urgency for battle to reflect that decision.
Eragon
In yet another instance of a popular novel failing to achieve the same success onscreen, Eragon, Christopher Paolini's story of a farm boy who becomes a hero to his homeland after finding a dragon egg, is actually the first in a series of four books. Unfortunately, the critical and commercial misfire that its cinematic adaptation came to be ensured that the following three installments would never make it to celluloid.
Christopher Paolini's fantasy series, The Inheritance Cycle, still earns international acclaim, so perhaps if Disney (who now own the rights to Eragon following the merger with Fox) wanted to hit the reset button, they should hire an accomplished filmmaker to direct and not a first-timer known just for visual effects. Not to mention, moviegoers would probably be willing to endure a two-hours-plus film based on a 509-page book if it means not cutting corners on telling a complete story.
Green Lantern
Few films have remained relevant by the pure, incessant hatred flung at them long after their release like Ryan Reynolds' second ill-fated attempt at comic book movie stardom, Green Lantern. Despite earning back its budget in international box office returns, critics and audiences both agreed that the DC hero's big screen debut was an overtly CGI-heavy assault to the eyes, ears, and brain.
For a reboot of Green Lantern, which I am sure has been discussed in the offices of Warner Bros., I have a few suggestions. I would take Wade Wilson's advice in Deadpool to not make the suit animated this time, go with John Stewart -- the Green Lantern the more recent generation of DC fans will be more familiar with -- instead of Hal Jordan as your protagonist, and please keep in mind that when your hero possesses a ring that can manifest any object, there should be options to use in battle than a giant, green fist.
Fantastic Four
The Fantastic Four is a beloved comic book that has been attempted on film more times than most (the first try in 1994 never even made it to theaters) but has never scored a real win. While Tim Story's 2005 film and its sequel, Rise of the Silver Surfer, actually proved to be modest financial successes despite poor critical reception, those movies are gold compared to the infamous 2015 reboot, a box office disaster that suffered from premature fan backlash, debilitating reshoots, and director Josh Trank's public disowning of the film over Twitter.
Now that Disney owns the rights to the property, fans of Marvel's first superhero family hope that Kevin Feige can save the Fantastic Four from cinematic obscurity with a film that finally gets the tone, character personalities, and origin story right this time. One thing the MCU should consider with their rumored reboot is, instead of choosing either humorless body horror or egregious sitcom fodder as the central, at least find a decent middle ground between both.
The Last Airbender
M. Night Shyamalan's acclaim had been dwindling over the years since The Sixth Sense made him a household name, but it was his adaptation of the popular animated series Avatar: The Last Airbender that had him sentenced to movie jail. The epic fantasy about a young boy named Aang, the last of his kind, capable of wielding all four elements (earth, water, fire, air) was watered down to a poorly acted and completely nonsensical bore in the eyes of fans and critics, putting plans for a trilogy on indefinite hold.
Reviving The Last Airbender for another theatrical release does not look promising at the moment, but it looks like a live action TV series reboot on Netflix is in the works with original creators Michael DiMartino and Bryan Konietzko as showrunners, who intend to fully realize their story in the cinematic vision they had always hoped for with a "culturally appropriate, non-whitewashed cast." Avatar fans still might never forgive M. Night Shyamalan, who has bounced back decidedly well in the last few years since returning to his thriller roots, but at least there is a chance to finally see the beloved cartoon be served justice.
Is there another franchise vehicle that you believe deserves a second chance? Let us know in the comments below!
Jason has been writing since he was able to pick up a washable marker, with which he wrote his debut illustrated children's story, later transitioning to a short-lived comic book series and (very) amateur filmmaking before finally settling on pursuing a career in writing about movies in lieu of making them. Look for his name in just about any article related to Batman.
Your Daily Blend of Entertainment News
Thank you for signing up to CinemaBlend. You will receive a verification email shortly.
There was a problem. Please refresh the page and try again.