The Best Hailee Steinfeld Movies And TV Shows (And How To Watch Them)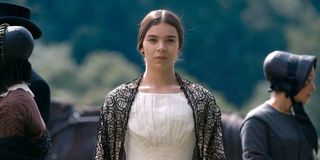 CinemaBlend participates in affiliate programs with various companies. We may earn a commission when you click on or make purchases via links.
As time goes by, a new era of actors and actresses always make their way into our hearts with some of their best films and television shows. One of those actresses as of late has been Hailee Steinfeld, a young woman who has done so much in her career that she is in some of the best movies on Netflix and the best movies on Amazon.
From her breakout role in True Grit, to her dip into action movies with Ender's Game, Hailee Steinfeld has done so much in the world of acting, and will only continue to do so when Hawkeye premieres on Disney+ soon. However, since we have a bit of a way to go until that Marvel series hits the streaming platform, here are some of the best Hailee Steinfeld movies and TV shows, so far, that you can watch right now.
True Grit (Cinemax Go)
In this western drama, True Grit tells the story of a stubborn teenager, who enlists the aid of a U.S. Marshal to track down the man that murdered her father, a man with "true grit."
This is actually the movie that brought a much younger Hailee Steinfeld to stardom, and for which she received an Academy Award nomination. The story is full of thrills and your typical western plots that happen, but the performances are really what make this one of Hailee Steinfeld's best. Do you have the "true grit" to watch it?
Stream True Grit on Cinemax Go.
Rent True Grit on Amazon. (opens in new tab)
3 Days To Kill (Netflix)
When a spy finds out that he is dying from a terminal disease, he decides to give up his dangerous life to spend time with his family, and his estranged daughter, in 3 Days To Kill. However, circumstances force him back into the high-stakes job he had for years.
While the action in this is great if you're into action movies and thrillers, what really makes this one of Steinfeld's best films is the relationship that grows between her and her character's father (played by Kevin Costner) in the film. Despite the horrible situation they are in, there's still somehow hope that some sort of bond can be found between the two after years and years of secrets.
Stream 3 Days To Kill on Netflix. (opens in new tab)
Rent 3 Days To Kill on Amazon. (opens in new tab)
Romeo And Juliet (Amazon Prime)
I mean, we already have so many adaptations of this classic Shakespeare tale, but why not another? In Romeo and Juliet, we follow the classic story of forbidden love between Romeo and Juliet, and their plight to try and achieve the love that they want with all their hearts.
I feel like there's not a lot I need to say to convince you to watch Romeo and Juliet. We all know the story and how it turns out, considering how famous it is, but there's always room for another version. While the film isn't the best adaptation out there, in my opinion, I feel that Hailee Steinfeld does well with the story she is given and brings a certain new light to Juliet, so give it a shot if you haven't seen it yet.
Stream Romeo and Juliet on Amazon Prime. (opens in new tab)
Rent Romeo and Juliet on Apple TV. (opens in new tab)
Begin Again (Tubi)
Hailee Steinfeld's singing skills are amazing. In Begin Again, we follow the story of Gretta, a young woman who, with her college sweetheart, both write songs. Her boyfriend, Dave, gets a big-time label deal, but when his fame begins to swell, he begins to stray, leaving her all alone.
I know that the premise makes this sound like it's going to be a depressing musical, but I promise you, it's anything but. The comedy mixed in with the music really brings a smile to your face, paired with great performances from an all-around awesome cast. Hailee Steinfeld and Kiera Knightly have a wonderful duet together, and their voices mold in harmony perfectly. Musicals may not be everyone's thing, but they are surely mine, and you should watch it if they are your thing, too.
Rent Begin Again on Amazon. (opens in new tab)
Ender's Game (Pluto TV)
Ender's Game follows the story of a young boy named Ender Wiggin, who is sent off to this training academy titled Battle School, which is located above the orbit of Earth. There, he is taught how to battle against a vast alien race, known as "Formics."
See, the thing is, I've always enjoyed this adaptation of the novel compared to some other reviewers out there of the film. I think it's just because I really liked the cast that they had. Do I wish that Ender's Game could have been better? As a fan of the book, of course I do. But, that doesn't mean I can't enjoy the one adaptation that we do have. Hailee Steinfeld works well as Petra Arkanian, and how can you not like the actors she works with? Harrison Ford? Viola Davis? Ben Kingsley? The list just goes on and on.
Stream Ender's Game on Pluto TV.
Rent Ender's Game on Amazon. (opens in new tab)
Dickinson (Apple TV+)
If you ever wondered if Hailee Steinfeld was funny, look no further than the Apple TV+ original, Dickinson. In this comedy, Steinfeld stars as Emily Dickinson, the famous author, and we get to explore what it was like back then with the constraints of society, gender, and family from her perspective, but all with a modern point of view.
As someone who has watched both seasons of this show, I truly can't see anyone else playing Emily Dickinson besides Hailee Steinfeld. She's able to still make Dickinson this prim and proper aspiring poet while also giving her that attitude and fun that makes her such a likable character. Plus, the cast of Dickinson is one to remember, with plenty of familiar faces, such as Ella Hunt, Jane Krakowski, and more. I, for one, can't wait until Season 3 of Dickinson.
Stream Dickinson on Apple TV+. (opens in new tab)
Bumblebee (Paramount+)
With another dip into the action world, Hailee Steinfeld decided to join the Transformers universe with Bumblebee. In this film, we get to see the origin story of the famous transformer from the series, and how he forms a bond with a teenage girl, named Charlie Watson.
Look, I'm not even a huge Transformers fan, but Bumblebee is one of the best I've seen so far. There's something so sincere about Steinfeld's character and Bumblebee, played by Dylan O' Brien. Their relationship feels super believable, even it's literally just a human and a CGI robot. They work so well together. But, because this is a Transformers film, there's also plenty of action and explosions, too, so if you're a fan of that, this is your film to watch.
Stream Bumblebee on Paramount+. (opens in new tab)
Rent Bumblebee on Amazon. (opens in new tab)
The Edge of Seventeen (Amazon Rental)
This is one of my absolute favorites from Hailee Steinfeld. In The Edge of Seventeen, a high school junior living near the suburbs of Portland tells her school teacher that she is planning to commit suicide, narrating her life so far, and how it has led up to this moment.
Again, I know this premise sounds like it's going to be depressing, but my God, it's the complete opposite! Hailee Steinfeld and Woody Harrelson, who plays her teacher in The Edge of Seventeen, are absolute perfection together. They have wonderful chemistry and honestly, I hope that they get to work together in way more films after this because the pairing is awesome. Coming-of-age films are always there to teach you lessons and (usually) make you laugh, and that's exactly what The Edge of Seventeen does.
Rent The Edge of Seventeen on Amazon. (opens in new tab)
Pitch Perfect 2 (Amazon Rental)
This is just me finding ways to listen to Hailee Steinfeld's wonderful voice again. In Pitch Perfect 2, the Barden Bellas are back and looking for their next big competition after winning Nationals, which means competing in a worldwide a capella competition, trying to beat out a German group.
Steinfeld's character joins as a newbie in the group, and wow oh wow is she fantastic. Not only was Pitch Perfect 2 a great way to show off her comedic skills, but her voice is also absolutely amazing and molds so well with the rest of the Barden Bellas. Her version of "Flashlight" is one that I can listen to on a daily basis and deserves so much more recognition. The Pitch Perfect movies are fun, regardless, with the amazing Pitch Perfect cast, but the second one will always have a special place in my heart.
Rent Pitch Perfect 2 on Amazon. (opens in new tab)
Spider-Man: Into The Spider-Verse
As the last on this list, this is most certainly not the least. Spider-Man: Into the Spider-Verse tells the origin story of Miles Morales, another one of the many versions of Spider-Man, and how he starts to come in contact with several other Spider-People from several other universes, known as the "Spider-Verse."
The film won the Academy Award for Best Animated Film for a reason. Spider-Man: Into the Spider-Verse is amazing in every aspect, from the soundtrack to the animation, and the voice acting to the plot, you'll find something to love about this film. Hailee Steinfeld plays Gwen Stacy, otherwise known as Spider-Woman, and her voice suits the character perfectly. For Into the Spider-Verse 2, she's back, and that was the best decision. No question. Please, if you haven't watched this film, go rent it now and watch it.
Rent Spider-Man: Into the Spider-Verse on Amazon. (opens in new tab)
With all these 2021 movies coming out, I need to double-check to see if Hailee Steinfeld is going to be in any of them. Regardless, there's no denying that this young actress has done so much in her career thus far – and I can only imagine how much more she is going to do.
Big nerd and lover of Game of Thrones/A Song of Ice and Fire. Will forever hate season eight. Superhero and horror geek. And please don't debate me on The Last of Us 2, it was amazing!
Your Daily Blend of Entertainment News
Thank you for signing up to CinemaBlend. You will receive a verification email shortly.
There was a problem. Please refresh the page and try again.