Weekend Box Office: Ender's Game Is Number One, Free Birds Is A Turkey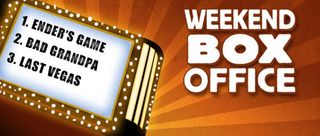 It was pretty well expected that the highly anticipated (or, at least, highly marketed) Ender's Game would be number one this weekend, but just how close it would come to missing that mark wasn't on most box office radars.
On the heels of lukewarm reviews the sci-fi movie debuted with just $28 million against its $110 million budget. While that was still enough for number one, it wasn't too much more than the second place $20 million that Jackass Presents: Bad Grandpa banked, adding to its now $62 million domestic running total.
Some might attribute Ender's Game's lack of financial success to a boycott against the novel's author and his political views, but if that particular vote-with-your-wallet audience was really all that influential you'd think a movie full of actors supporting their political position would have done better than Last Vegas did. The story of bucket list debauchery banked a mediocre $16.5 million for a third place opening weekend.
At the very least they would have supported it enough to do far better than the $16.2 million taken in by the critically panned animated Free Birds. The sort-of-Thanksgiving themed movie didn't appear to get any kind of boost from the holiday connection, and will likely have faded into obscurity before the actual Thanksgiving weekend box office rush hits at the end of the month.
12 Years A Slave expanded to just over 410 venues and climbed from eighth place to seventh, more than doubling its take last weekend earning $4.6 million.
For the full weekend top ten, check out the chart below:
1.
Ender's Game *

$28,000,000Total: $28,000,000LW: N
THTRS: 3,407
2.
Jackass Presents: Bad Grandpa

$20,500,000Total: $62,058,000LW: 1
THTRS: 3,345
3.
Last Vegas *

$16,520,000Total: $16,520,000LW: N
THTRS: 3,065
4.
Free Birds *

$16,200,000Total: $16,200,000LW: N
THTRS: 3,736
5.
Gravity

$13,130,000Total: $219,196,000LW: 2
THTRS: 3,024
6.
Captain Phillips

$8,500,000Total: $82,551,000LW: 3
THTRS: 3,021
7.
12 Years a Slave

$4,600,000Total: $8,760,000LW: 8
THTRS: 410
8.
Cloudy with a Chance of Meatballs 2

$4,200,000Total: $106,195,000LW: 5
THTRS: 2,430
9.
Carrie (2013)

$3,400,000Total: $31,973,000LW: 6
THTRS: 2,252
10.
The Counselor

$3,250,000Total: $13,368,000LW: 4
THTRS: 3,044