Jon Stewart And Stephen Colbert Receive Letters Threatening Congress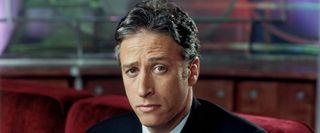 Jon Stewart's The Daily Show and Stephen Colbert's The Colbert Report regularly brutalize members of both parties, but those attacks are usually limited to a cutting wit and the keen edge of satire. This week, however, an unknown individual decided to use the shows to announce a much more serious threat to members of our government. According to law enforcement officials, both Stewart and Colbert received letters that threatened biological attacks on U.S. senators.
According to THR, the letters purportedly contained anti-Establishment/Wall Street rhetoric, and warned that letters would be sent to American senators containing a lethal pathogen. Senate officials told Reuters that several letters containing a powdery substance had already been sent to senators, including House Speaker John Boehner, but so far the material has proven harmless.
Stewart and Colbert weren't the only media types included on the nutjob's "press release" list. Similar letters were sent to the New York Times, the Los Angeles Times, and NPR. According to FBI Special Agent Jason Pack, "So far, none of the letters have contained a hazardous substance. We are working with those law enforcement agencies affected to determine if the mailings are related. We take these matters seriously and will investigate fully."
Comedy Central hasn't issued a comment yet, and I doubt either show will be addressing the issue on the air, at least not until the investigation is resolved. Even for a pair of shows focused on making us laugh so we don't cry, some things just aren't funny.
Your Daily Blend of Entertainment News
Your Daily Blend of Entertainment News
Thank you for signing up to CinemaBlend. You will receive a verification email shortly.
There was a problem. Please refresh the page and try again.