Joshua Jackson Lands Leading Role On Abrams' Fringe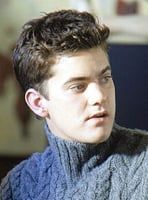 Pacey scores again. Former Dawson's Creek cast member Joshua Jackson just landed a leading role in JJ Abrams' upcoming Fox sci-fi drama Fringe. Jackson, who played the Katie Holmes-loving Pacey for six years on Creek, will take on the role of misfit genius Peter Bishop. According to The Hollywood Reporter, Jackson's character will join FBI agent Olivia Warren (Anna Torv) and his estranged father, Mulderish scientist Dr. Walter Bishop (John Noble), to investigate "unexplained phenomena."
The $10 million series pilot, produced by Abrams and scripted by Star Trek movie writers Alex Kurtzman and Roberto Orci, is now shooting in Toronto. Jackson joins recent pilot cast additions Mark Valley, Kirk Acevedo and The Wire's Lance Reddick.
This sounds like a great role for Jackson, who's performance as Pacey made him the fan favorite (sorry James Van Der Beek) on Dawson's Creek. Jackson was part of the ensemble cast in 2006's critically acclaimed Bobby and will star in the feature Shutter, which hits theaters in March. Rumors about him playing the role of Fletch, made famous by Chevy Chase, in the prequel Fletch Won are currently circling the Web.
Your Daily Blend of Entertainment News
Thank you for signing up to CinemaBlend. You will receive a verification email shortly.
There was a problem. Please refresh the page and try again.